Czech Economy Races to EU's Fastest Growth on Weak Koruna Policy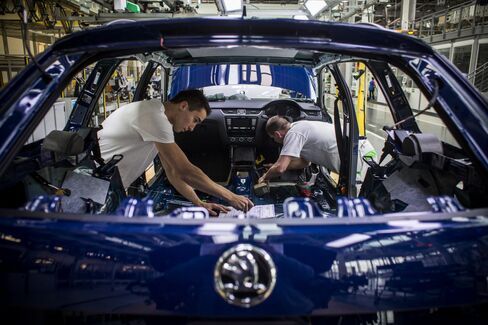 Czech economic growth accelerated to a record and outpaced all other members of the European Union in the first quarter, helped by a policy of keeping the currency weak and the government's looser budget stance.
Gross domestic product increased 2.8 percent from the last three months of 2014, the statistics office in Prague said in a flash estimate on its website on Friday. GDP rose 3.9 percent from a year earlier, the fastest clip since the second quarter of 2008. The median estimate in a Bloomberg survey of 13 economists was for growth of 0.8 percent quarter-on-quarter and a 2 percent increase on an annual basis.
"The current economic recovery stands on strong foundations, supported by growth in foreign markets, declining oil prices and domestic fiscal and monetary policy," Jiri Skop, a senior economist at Prague-based Komercni Banka AS, said by e-mail.
The central European nation of 10.5 million has enjoyed faster growth after suffering a record-long recession that ended in 2013, the year when a pro-austerity government collapsed. The central bank pushed the koruna weaker by intervening in the market and setting a cap on its gains, moves policy makers say have helped to avert deflation and fuel the recovery by supporting exports and domestic demand.
The Czech currency gained 0.4 percent to 27.373 to the euro as of 12:05 p.m. in Prague, the biggest jump this month, according to data compiled by Bloomberg. It's 5.8 percent weaker compared with the level before the market intervention in November 2013.
Manufacturing Industry
"Continued growth in almost all segments of the manufacturing industry, especially in the production of transportation vehicles and machinery, were of key importance for a favorable development of the Czech economy," the statistics office said. It will publish detailed GDP data on May 29.
Neighboring Poland also reported economic growth that exceeded analyst estimates, with quarterly expansion accelerating to 1 percent. GDP growth also quickened to 3.5 percent from a year earlier.
While no data breakdown is yet available for the Czech Republic, monthly activity points to broad-based strength of its economy, Neil Shearing, chief emerging-markets analyst at Capital Economics Ltd. in London, said in a note.
"If first-quarter GDP data in Poland were strong, in the Czech Republic they blew us and everyone else out of the water," Shearing said. "Both industrial production and retail sales were strong in the first quarter."
Before it's here, it's on the Bloomberg Terminal.
LEARN MORE