Cameron Seeks to Boost U.K. Efforts Against Islamic State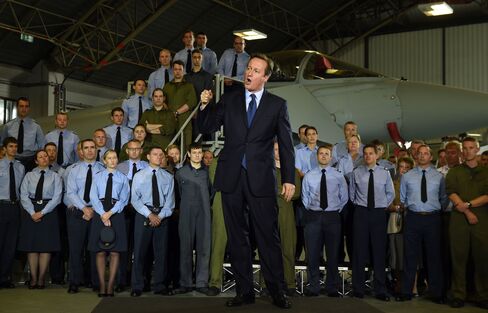 Prime Minister David Cameron is seeking a bigger role for the U.K. in the fight to eradicate Islamic State in Syria and Iraq, urging an intensified campaign against an ideology that uses recruits as "cannon fodder."
Cameron used a speech on Monday to warn young Britons against travel abroad to join the movement's ranks, after saying over the weekend that his government is discussing how the U.K. can contribute more to the struggle against its expansion in the Middle East. He also said that parents would be able get their children's' passports canceled if they feared they'd been radicalized.
"If you are a boy, they will brainwash you, strap bombs to your body and blow you up," Cameron said in the speech in Birmingham, central England. "If you are a girl, they will enslave and abuse you."
U.K. pilots have been helping other forces that carried out airstrikes against Islamic State in Syria even though Parliament voted in September to limit U.K. operations against the group to Iraq. Cameron said in an interview on NBC News' "Meet the Press" that he was in talks over ways the U.K. can increase its role in the region.
"I want Britain to do more," Cameron said. "I will always have to take my Parliament with me. We are talking and discussing at the moment, including with the opposition parties in Britain, what more that we can do. But be in no doubt, we are committed to working with you to destroy the caliphate in both countries."
Training Strategy
General David Richards, a former chief of the defense staff, told the BBC's "The Andrew Marr Show" that the military campaign against Islamic State needs to be reinforced if it's to be successful.
"The current strategy is essentially one of equipping and training others to do the hard stuff for us," Richards said. "I think that could work, but the scale of the effort going into it is woefully insufficient. If you really want to get rid of them, we need to effectively get on a war footing."
In his speech, Cameron announced a review of how opportunity and social integration can be enhanced as a means of undercutting extremists' efforts to radicalize young Britons.
"We need young people to understand that here in the U.K. they can shape the future by being an active part of our great democracy," Cameron said.
The review will examine issues such as how to ensure that minority community members learn to speak English, boosting employment opportunities, and guarding against funding for community groups being used in a divisive way.
Before it's here, it's on the Bloomberg Terminal.
LEARN MORE