U.K. Evokes Memories of World War II in Fight With Islamic State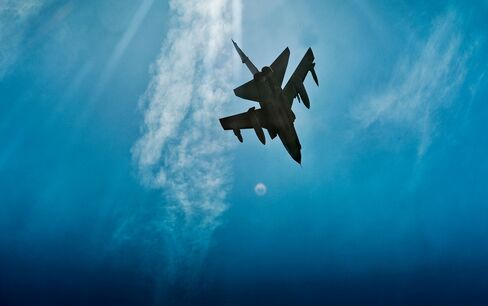 U.K. Defence Secretary Michael Fallon will compare the fight against Islamic State with World War II on Thursday when he announces an extension of Britain's reconnaissance flights over Iraq and Syria.
Fallon plans to say that the latest of three RC-135 Rivet joint electronic surveillance aircraft will be delivered to the Royal Air Force from L-3 Communications Holdings Inc. in Greenville, Texas, seven months ahead of schedule, and sent to join the fight against IS.
"We're fighting a new Battle of Britain. Once again, against a fascist enemy prepared to kill civilians and opponents alike," Fallon will say in a speech in London, according to extracts released by his office. "Our RAF are again spearheading the counter attack."
Britain has carried out airstrikes on Iraq as part of a U.S.-led coalition against IS and Prime Minister David Cameron is preparing to ask parliament for permission to extend attacks to include Islamist extremist positions in Syria. The current consent from parliament only permits reconnaissance and refueling flights over Syria.
Lawmakers from the opposition Labour party were invited to a meeting of the National Security Council on Tuesday to be briefed on the U.K.'s response to IS in a move seen as preparing the ground for a vote in the House of Commons on airstrikes on Syria.
When Parliament voted last September to authorize strikes against Islamic State, Cameron limited himself to Iraq because there wasn't support among lawmakers for targeting Syria.

Read this next:
Before it's here, it's on the Bloomberg Terminal.
LEARN MORE