A Perfect Storm Brews for Bond Funds
Soon it could be tough to save for a rainy day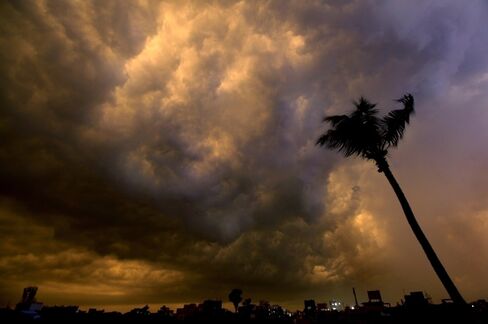 Post-financial-crisis regulation has sharply reduced investors' freedom to buy and sell securities without affecting prices, according to many (many) market participants. Overheating in the bond market has exacerbated the problem, according to many others.
That's caused some to worry about the ability of fixed-income funds to withstand a big sell-off in bonds. Many fund managers have been increasing their credit lines to protect themselves against the possibility of a wave of redemptions by nervous investors. Bloomberg reported last week that Aberdeen Asset Management has arranged $500 million in credit lines to cushion the blow of a potential bond sell-off. BlackRock, Vanguard, Goldman Sachs Asset Management, Guggenheim Partners, and Eaton Vance are also said to have made extra borrowing arrangements with banks in recent months.
Those arrangements may prove prudent, according to Barclays analysts led by Brad Rogoff. In research published on Friday, the Barclays analysts look specifically at funds that comprise or track leveraged loans, or loans made to companies with weaker balance sheets. Liquidity is a particularly acute problem for such funds, since leveraged loans are traded in a unique and kind of old-fashioned way. But their problems could be extrapolated to a broader array of investment vehicles.
Here's what the analysts say:
Historical fund flow data confirm that it is crucial for loan funds to have a mechanism to deal with potential mismatches in cash flows. Across the entire loan mutual fund universe, the largest 20-day streak of aggregate outflows in the past four years was 5 percent of AUM [assets under management] (Figure 2). But individual funds may experience greater periods of stress due to investor redemptions; the most outflows experienced by a fund with more than $1bn AUM over the same period was nearly one-quarter of total AUM (Figure 3). Such totals indicate that cash balances alone are insufficient to cope with outflows in extreme scenarios, and large loan funds have set up significant revolving credit facilities to prepare for potential periods of mass outflows. ... Most loan mutual fund prospectuses allow a revolver to borrow up to one-third of AUM to deal with settlement-related differences.

Source: Barclays
But there's a catch. Post-financial crisis regulation is also said to have made it a lot more expensive for banks to provide such credit facilities. While banks are unlikely to cut revolving credit lines made to powerful fund management clients altogether (since those clients inevitably do other, more lucrative business with the banks), they may have to pull back on the facilities, or charge more for them, thanks to new rules that require them to hold more capital against all of their assets.
In other words, funds that want to prepare better for a rainy day in markets may find it too difficult—or too expensive—to do so.
Here's Barclays again:
... As banks are forced to comply with new supplementary leverage ratios by 2018, the pressure on this type of business will remain. Several policies put in place to make banks safer in the wake of the financial crisis are now causing mutual fund companies to feel like they have the short end of the stick.
Before it's here, it's on the Bloomberg Terminal.
LEARN MORE