Aberdeen Arranges Credit to Fund Redemptions in Bond Slump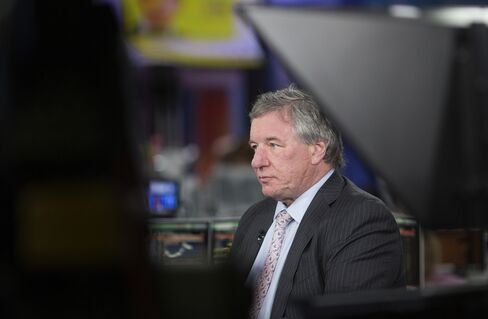 Aberdeen Asset Management Plc Chief Executive Officer Martin Gilbert said the firm has arranged about $500 million in credit lines to fund redemptions in the event of a bond-market selloff.
"It will get ugly" if either Greece exits the single European currency or the U.S. starts raising interest rates, Gilbert, 59, told Bloomberg Television's Erik Schatzker and Olivia Sterns on Monday. "You want bank lines in place in case you have to meet a redemption and there is no market."
Gilbert said Aberdeen, the U.K.'s second-largest publicly traded asset manager by market value, has about $1 billion in cash and a further $500 million of credit arranged if needed. Lenders are comfortable providing funding because the company is backed by the underlying debt securities, he said.
"It's a substantial amount," Gilbert said. "But you've got to be prepared."
Aberdeen joins U.S. companies including BlackRock Inc. in setting aside additional money to meet requests from clients to pull their funds in the event of drying up liquidity. BlackRock, the world's largest asset manager, has more than quadrupled the amount its mutual funds can collectively borrow to meet withdrawals to $2.1 billion since the start of 2013.
Greek Exit
Global bond markets have lost about $640 billion since the end of April, driven in parts by a surge in volatility linked to the worsening Greek turmoil. That raised concerns about contagion given sovereign debt's explosion since the credit crisis. Stocks and the euro fell on Monday after European officials failed to reach an agreement with Greece to unlock aid.
"The bond markets are the areas that worry me the most," Gilbert said. "If there is any mass amount of money coming out of the bond market how do we fund that, how do we sell bonds in a period where liquidity has really dried up."
Investors are reassessing their risk after price swings saw the weekly range in bund yields jump to 52 basis points earlier this month. That's the most since 1998 and up from as little as three basis points in December.
Gilbert, whose firm oversees about 72 billion pounds ($112 billion) in fixed-income assets, said Aberdeen hasn't yet seen any outflows from its bond funds. While he doesn't expect Greece to exit the euro area, it was "reasonably likely" that the country could default on its debt, he said.
His comments were made as European Central Bank President Mario Draghi said Monday it's up to the Greek government to take the next step to break the deadlock in talks with creditors and secure a deal on its bailout.
"The knock-on effects on the bond markets is where we are most concerned," Gilbert said. "We don't hold Greek bonds or equities because there are better opportunities elsewhere."
Before it's here, it's on the Bloomberg Terminal.
LEARN MORE