Danish Prime Minister Calls Election as Polls Point to Defeat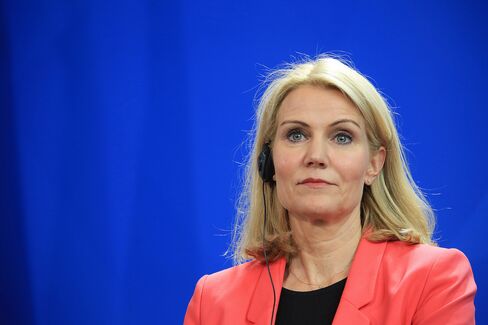 Prime Minister Helle Thorning-Schmidt called an early election on Wednesday even as most polls indicate she has little chance of winning a second term.
The 48-year-old, who became Denmark's first female premier four years ago on pledges to raise welfare spending and boost employment, will send Danes to the ballot boxes on June 18, almost three months before a Sept. 14 deadline. The announcement comes after the government raised forecasts for economic growth and pledged billions in welfare spending.
"Denmark is in better shape than it was in 2011," Thorning-Schmidt said at a press conference. She asked Danes for a fresh mandate "to keep implementing reforms."
Since taking office in 2011 on a 0.5 point election win, Thorning-Schmidt has consistently lagged behind in the polls after backtracking on a number of key pledges. She lost a junior coalition partner in January 2014 after a clash over Goldman Sachs's investment in public assets. More recently, lawmakers have questioned the government's handling of terrorist attacks that left two people dead in February.
Thorning-Schmidt's two-party coalition and its parliamentary allies stand to get 46.7 percent support, versus 53.3 percent for a group of parties led by Liberal chairman Lars Loekke Rasmussen, according to a May 25 poll of polls by newspaper Berlingske.
If he wins, Rasmussen would become prime minister for a second time, having replaced Anders Fogh Rasmussen in 2009 when he left Danish politics to lead the North Atlantic Treaty Organization.
Krone Speculation
The main difference between the two blocs centers on their welfare pledges. Loekke Rasmussen, 51, says improvements in public services are achievable without increasing the size of the government sector, while Thorning-Schmidt has promised to raise welfare spending.
Whoever rules Denmark after the election will need to design a fiscal policy that supports the country's fixed- exchange rate. The regime came under attack earlier in the year when speculators bet Denmark's ties to the euro could be severed. In the end, the central bank prevailed and the International Monetary Fund said the events underpinned the bank's credibility.
Governor Lars Rohde has consistently warned that a stable exchange-rate policy relies on budget restraint. Denmark's government is headed for a 2.6 percent shortfall of gross domestic product in 2016, compared with an average deficit of 1.7 percent in the euro area, the European Commission said on May 5.
Before it's here, it's on the Bloomberg Terminal.
LEARN MORE