Microsoft on the Lookout for More Mobile-Productivity App Acquisitions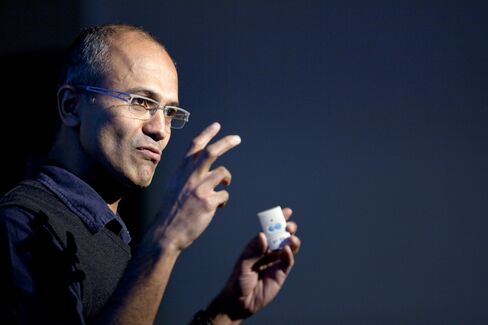 Microsoft Corp. Chief Executive Officer Satya Nadella has a new strategy to make the company a purveyor of popular mobile applications: Acquire them.
The software company is planning over the next few months to buy mobile-productivity applications that work on Apple Inc. and Google Inc. operating systems, according to people familiar with the situation. The plans follow Microsoft's two deals for app makers over the past three months -- the acquisition on Wednesday of calendar-apps company Sunrise Atelier Inc. and the purchase of e-mail software startup Acompli Inc. in December.
Now Microsoft is trying to complete more such transactions, with categories under consideration including note-taking and project management, said the people, who asked not to be identified because the plans are confidential. Microsoft is looking largely at deals valued from the tens of millions of dollars to as much as a few hundred million dollars, said one of the people.
The deal-making for apps marks a departure for Microsoft. The Redmond, Washington-based company previously focused first on apps that ran on its flagship Windows operating system, sometimes converting those programs to run on Apple and Google software. Now Nadella, who has made it a priority to bolster the company's stable of software for all mobile devices, is buying app makers that work on Apple's iOS and Google's Android platforms and letting their expertise flow back into the Windows versions.
New Attitude
"Historically they would focus on their own platform," said Wes Miller, an analyst at Kirkland, Washington-based researcher Directions on Microsoft. "Now the attitude is we want to build amazing experiences on everybody's platform and if we don't have the expertise to build or design it in house, we're going to buy companies that do."
Peter Wootton, a spokesman for Microsoft, declined to comment.
Besides looking for apps that are popular on rival products, Microsoft wants targets where the people or technology at the startup can also be used to bolster its offerings for Windows, the people said. Acompli CEO Javier Soltero is now playing a big role in determining Microsoft's plans for mobile e-mail software overall, they said.
More Mobile
Microsoft is looking particularly for productivity apps to bolster its share in the mobile market. While its Office software dominates the productivity category on personal computers, the company is faced with many individual apps for collaboration, file-sharing and e-mail, as well as things like spreadsheets and slides, which are designed for mobile devices like phones and tablets. The small slice that Windows has in mobile has allowed an opening for other apps to gain users on smartphones and tablets.
Microsoft has made moves to counter its lack of mobile-productivity share. Last year, the company released Office apps for iOS and Android. Nadella is now lining up other popular apps to take on that market.
The acquisition strategy has taken shape as Microsoft has gone down the list of all parts of the productivity software market and evaluated what apps it has and their traction on rival platforms. For the areas where Microsoft doesn't have an iOS or Android product, or those products don't have many users, the company is looking at where there are popular apps at a reasonable valuation, one person said.
Another area of interest is mobile and collaborative ways of using spreadsheets, said the person.
Microsoft is unlikely to buy targets that cost more than a few hundred million dollars because it's hard to generate enough revenue to justify the cost, said one person.
That was a lesson of Microsoft's $1.2 billion purchase in 2012 of enterprise social-software company Yammer. While Yammer has helped alter Microsoft's development culture, it hasn't pulled through as many Office sales as anticipated, said the person.
That thinking would seem to rule out a deal for startups like note-taking app Evernote, which is valued at more than $1 billion. An Evernote representative didn't immediately have a comment.
Before it's here, it's on the Bloomberg Terminal.
LEARN MORE