view
Silicon Valley's Demise Has Been Postponed Again
It's crowded. It's expensive. It's also still growing and creating plenty of good jobs.
by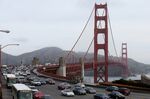 Silicon Valley is totally over, right? I mean, it says so in the New York Times, which ran a much-discussed story last week headlined "Silicon Valley Is Over, Says Silicon Valley." And it says so here at Bloomberg View, where my fellow columnist Conor Sen opined last fall that "The Numbers Show Silicon Valley Is Already Fading," and I followed up a few days later with a column on how job growth had slowed sharply in the San Francisco and San Jose metropolitan areas.
And why wouldn't Silicon Valley -- which I'm defining broadly here to encompass the entire San Francisco Bay Area -- be over? With housing supply constrained by an ocean, a bay, mudslide-prone hills and California's notoriously development-unfriendly politics and regulations; overcrowded highways; underwhelming public transportation; underfunded schools; persistent water shortages; some of the nation's highest income taxes; and reputedly some of the nation's most insufferable people, the area has become an increasingly difficult place to live and work. I mean, even billionaire Peter Thiel is moving away (to Los Angeles)! Why would anybody stay?
With new state and metropolitan-area job numbers out Monday from the Bureau of Labor Statistics, complete with revisions of the past year's data, I thought I'd check on the status of this Silicon Valley exodus. These employment numbers are the timeliest regional economic indicators available. And it turns out that what they show is ... the opposite of an exodus.
Yes, after a spectacular run from 2011 through 2015, job growth in the San Francisco and San Jose areas did slow in 2016, and for a while it seemed to be converging with the national growth rate. But metro San Jose is back to adding jobs at more than twice the pace of the U.S., and metro San Francisco appears to be bouncing back, too. Among the nation's 50 largest metro areas, San Jose ranked seventh in the rate of job growth from January 2017 through January 2018, and San Francisco was more or less tied for 17th with Houston. The nearby Sacramento metro area came in tenth.
The picture on pay is more mixed. Private-sector workers in metro San Jose and metro San Francisco are the nation's highest-paid, with average weekly earnings in January of $1,506.84 and $1,315.58, respectively (compared with a national average of $910.89). Pay in the San Jose area did dip over the past year, though, so maybe that signifies something. Or, given the volatility of the metro-area pay data, maybe it doesn't:
The argument that Silicon Valley will soon pass its peak may well be right. There is evidence of middle-class flight from the area and from the entire state of California. For those who didn't buy their houses decades ago (and don't have rent-controlled apartments in Berkeley or Oakland or San Francisco), it is a really, really expensive place to live. And economic tides do turn. The Bay Area won't be on top of the world forever.
Still, I'd be cautious about predicting any kind of precipitous decline. As someone who grew up in the Bay Area, I can attest that people have been fleeing for places with less traffic and cheaper housing for a long time now. Pundits were wondering if Silicon Valley was already too crowded and too expensive during the last big boom in the late 1990s and early 2000s. It apparently wasn't, and the agglomeration effects of having lots and lots of highly skilled people in the same place continue to exert a powerful economic effect.
A forward-looking measure of this effect is the amount of venture capital money invested in companies in the region:
PricewaterhouseCoopers used to count all the Bay Area's VC investments in a region that it called Silicon Valley, but with the growth of the San Francisco tech scene, it opted last year to divide it into San Francisco and Silicon Valley regions, approximately but exactly along the lines of the San Francisco and San Jose metro areas. I recombined them for the chart. Also, New England is basically just metropolitan Boston. 1
Anyway, Greater Silicon Valley did see a dip in VC investment, in both dollars and relative terms, in recent years. But the dollar amounts are rising again, and the area's share of total U.S. VC investment in 2017 was, at 40.6 percent in 2017, 4 percentage points higher than its average from 1995 through 2016. Also, metro New York and Boston, which appeared to gain at Silicon Valley's expense, are crowded, expensive places, too.

I'm all for more good jobs being created in cheaper, less crowded places between the coasts, and there's evidence that some are. But for the moment, Silicon Valley is still creating lots of good jobs, too.
Neighboring New Hampshire used to get a good amount of VC investment, which may be why PwC chose to create a New England region years ago instead of just a Boston one. It doesn't anymore. And in general the PwC regions have more to do with how the VC industry developed historically than with geographic parity.
To contact the editor responsible for this story:
Brooke Sample at bsample1@bloomberg.net
Before it's here, it's on the Bloomberg Terminal.
LEARN MORE