Labor
Job Growth Slows Where Housing Costs a Lot
It's hard to work where you can't afford to live.
by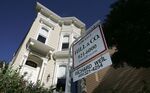 On the shores of California's San Francisco Bay, sizzling job gains have slowed down since 2015 to something pretty ... average:
My Bloomberg View colleague Conor Sen noted this Silicon Valley slowdown last month. One reason for it is pretty clear: Metropolitan San Jose and San Francisco are the two most expensive housing markets in the country, with median home sales prices in the second quarter of, respectively, $1.2 million and $950,000, according to the National Association of Realtors. They also happen to be the two metropolitan areas with the highest median household incomes: $110,040 and $96,677 respectively in 2016, according to the Census Bureau. But those median incomes aren't big enough to buy those median houses. Metro San Jose and San Francisco scored last and and third-to-last on the NAR's 2016 Housing Affordability Index, which "measures whether or not a typical family earns enough income to qualify for a mortgage loan on a typical home." 1

So I was curious: What if we looked at all 10 of the large metropolitan areas that score worst on the NAR affordability index?  These are, in reverse order of affordability, San Jose; San Francisco; Los Angeles; San Diego; Miami; Riverside, California; New York; Seattle; Portland, Oregon; and Denver 2 -- let's call them, collectively, Expensivia (-ia seems to be the most common ending for fictional-country names). Does employment growth there show the same pattern?
Yes, it does show the same pattern, just a little less dramatically. 3 And yes, I checked to make sure that this phenomenon isn't being driven by San Jose and San Francisco -- exclude them from Expensivia, and the chart barely changes.
If what this chart showed was job growth slowing in Expensivia yet rising in the rest of the country, that would be a simple and reasonably happy story of high housing prices pushing growth to less-expensive cities. Instead, it shows job growth slowing everywhere, and plummeting in metropolitan areas that saw some of the strongest growth over the course of the current expansion. This could mean that high real estate prices (and the zoning rules and other regulations that help keep them high) are strangling the expansion, or that the expansion is slowing down for other reasons and hitting the high-priced cities first. Or something else!
Out of curiosity I took a look at Dallas-Fort Worth, the major metropolitan area with the strongest job growth over the course of this expansion. And then, out of yet more curiosity, I added in the jobs data for Buffalo, New York, the metropolitan area of more than 1 million inhabitants with the best housing affordability score:
While there's been a modest slowdown in the Dallas-Fort Worth area, it's nothing like what has happened in Expensivia. Job growth in the Metroplex remains way above the national average. Home prices have been rising faster in metro Dallas than in the rest of the country, too, but they started out cheap enough that the area still scores above average on the Housing Affordability Index. In Buffalo, meanwhile, housing is about as affordable as it can get, but job growth has been slow and is turning negative.

So it seems likely that housing costs have been been a big factor in the diverging fortunes of Expensivia and Dallas. It's just that, if you didn't already have rapid job growth in the first 4 place, cheap housing won't get it for you.
To contact the editor responsible for this story:
Brooke Sample at bsample1@bloomberg.net
Before it's here, it's on the Bloomberg Terminal.
LEARN MORE