Prophets
The Era of Bond Shortages and Conundrums Is Over
Inflation is starting to stir and central banks are less dovish, meaning there's very little to keep yields from continuing to rise.
by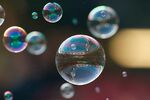 The Federal Reserve promised bond investors last year that its momentous shift from quantitative easing to quantitative tightening would have minimal impact on markets. Policy makers were concerned that a drastic increase in the supply of available U.S. Treasuries could destabilize the markets, just like in 2013 when then-Fed Chairman Ben S. Bernanke signaled the central bank might slow its bond purchases.
Although the bond market quickly recovered back then, what's different now is that the inflation data is starting to look stronger and central banks globally are sounding less dovish, meaning there's very little to keep yields from continuing to rise. The era of bond shortages and so-called conundrums that kept long-term yields suppressed even as the Fed raised interest rates appears to be over. The deluge of Treasury supply is finally having a negative impact on the market, partly offsetting demand from investors seeking shelter from the rout in equities and volatility that has exploded across all assets.
And no longer is increased borrowing by the government running in the background. It is front and center in investors' minds amid forecasts that the U.S. Treasury will at least double its debt sales this year to more than $1 trillion to make up for the lost revenue from the tax cuts. Add in rising inflation expectations and a stronger economy and what you get is a lethal combination for bonds.

This week marked the start of the Treasury's bigger debt auctions. It's now selling $26 billion of three-year notes monthly up from $24 billion; 10-year note sizes were increased to $24 billion from $23 billion; 30-year bonds were boosted to $16 billion from $15 billion. Although the increases may look small given the size of the $14.5 trillion Treasury market, the bumps are just the tip of the iceberg. Expect auction sizes to continue to increase.

The Treasury has a tough road ahead, as it's expected to raise twice as much net new cash from investors this year versus 2017. All three auctions this week "tailed," meaning that the yields the securities sold at were higher than where they were in pre-auction trading. That's not a sign of healthy demand. It's also not reassuring that such sloppy results came in a week where equity volatility exploded and stocks tumbled into an official correction. At about 2.83 percent Friday, Treasury 10-year yields are near their highs of the year, having risen from last year's low of 2.01 percent in early September. A break above the psychologically significant 3 percent, which chart watchers view as an area of support, would only add to the bearish sentiment.    

The explosion in the deficit is breathtaking. We look for a shortfall of $840 billion in 2018, and a $1 trillion to $1.5 trillion deficit in 2019 and beyond. These are epic numbers at a time in the economic cycle when growth is robust and labor markets tight. The recent tax reform plan will add to the red ink, and this week's budget deal offered unfunded goodies to both parties, with $300 billion of spending added. There appears to be no constituency in Washington to contain deficit growth.
Potent economic growth and strong gains in payrolls add to concern that that long-dormant inflationary tendencies are stirring. The government said Feb. 5 that average hourly earnings rose 2.9 percent in January from a year earlier, the most since 2009. The real test of the inflation story will come next week when the government releases its Consumer Price Index data for January. Economists are looking for a solid 0.3 percent gain in the overall number, with the core rate up 0.2 percent. The odds are better for the core number to exceed forecasts, and something like a 0.3 percent gain in the core consumer prices, which excludes food and energy, would only feed the bond bears.

Concern that inflation is poised to accelerate is largely why Fed officials say the recent turmoil in equities won't likely slow their plans to raise interest rates this year. Federal Reserve Bank of New York President William Dudley called the recent declines in stocks "small potatoes." At the same time, central bankers outside the U.S. are sounding less dovish, or like the Bank of England, even hawkish.  
To contact the editor responsible for this story:
Robert Burgess at bburgess@bloomberg.net
Before it's here, it's on the Bloomberg Terminal.
LEARN MORE