White House
Trumps Can Never Really Check Out of SoHo Hotel
Shady Russian guys, questionable funding sources and Robert Mueller. That's quite a guest list.
by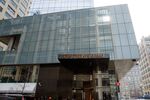 President Donald Trump and his children are abandoning the Trump SoHo Hotel, an epically misbegotten and mismanaged project in lower Manhattan that sullied the family's reputation even before it formally opened its doors in 2010.
But -- like visitors to the Hotel California (cue The Eagles) -- the Trumps can check out of the Trump SoHo any time they like, but they can never leave.
That's because the family's dealings with the building remain of particular interest to Robert Mueller, as my Bloomberg News colleagues have reported. Mueller is, of course, the Justice Department's special counsel who is examining possible wrongdoing stemming from Trump's financial and political ties -- as well as those of his family members and his presidential campaign -- to Russia.
Here's how the Trump SoHo fits in the picture. Mueller is examining "suspicious financial activity" in Trumplandia involving "Russian operatives," according to the Washington Post. He is investigating whether Trump associates laundered financial payoffs from Russian officials by channeling them through offshore accounts, as the New York Times has reported.
That sort of stuff has hung in the air around the Trump SoHo for more than a decade, and one doesn't need to go to Moscow to pick up some of the details. They can be found at 246 Spring Street, where the Trump SoHo stands, and in court papers and various media accounts over the years including some of my own.
The basic outlines are these: Trump and his two eldest children, Donald Jr. and Ivanka, partnered with a real estate firm, the Bayrock Group, on a series of real estate deals between 2002 and about 2011, the most prominent being the Trump SoHo.
Bayrock was also a conduit for murky European funding that went into a number of projects in the U.S. to which the president once lent his name in exchange for hefty fees.
Icelandic banks that dealt with Bayrock, for example, were easy marks for money launderers and foreign influence, according to interviews I conducted earlier this year with government investigators, legislators and others in Reykjavik, Brussels, Paris and London.
Trump testified under oath in a 2007 deposition that Bayrock brought Russian investors to his Trump Tower office to discuss deals in Moscow, and said he was pondering investing there.
One of Bayrock's principals was a career criminal named Felix Sater, who had ties to Russian and American organized crime groups. Before linking up with the company and with Trump, he had worked as a mob informant for the U.S. government, and fled to Moscow to avoid criminal charges while boasting of his KGB and Kremlin contacts there.
In a lawsuit and a series of interviews with me, a former Bayrock insider, Jody Kriss, claimed that he eventually departed the firm because he became convinced that Bayrock was a front for money laundering. Bayrock has disputed Kriss's charges.
(I have my own history in court with the president. Trump sued me in 2006 when I worked at the New York Times, alleging that my biography, "TrumpNation," had misrepresented his business record and his wealth. Trump lost the suit in 2011; my lawyers deposed Trump and Sater during the litigation.)
Trump has been fuzzy over the years about his relationship with Sater, saying that he barely knew him. In fact, Sater continued to be a bridge for Trump and his team for deals and diplomacy in Russia and Ukraine until at least earlier this year.
The Trump SoHo -- a mixed-use hotel and condominium building -- failed to sell many of its condo units after it opened, and many of the early buyers sued Bayrock and the Trumps for misrepresenting the project's prospects. The hotel, which perennially struggled to attract guests, went into foreclosure in 2013. A new company took control of the property from Bayrock and the Trumps. The Trumps stayed on as managers of the hotel -- until today.
It's a holiday evening, and it's a good time for media-savvy businesspeople to stealthily uncork bad news. The Trumps may be media-savvy, but they've never been particularly great businesspeople. Although their name will disappear from the Trump SoHo, Robert Mueller is making sure that they can't really leave -- at least not yet.
To contact the editor responsible for this story:
Stacey Shick at sshick@bloomberg.net
Before it's here, it's on the Bloomberg Terminal.
LEARN MORE