Trump Organization Bought Out of Its Contract for Trump SoHo
By and
Transition is scheduled for completion by the end of the year

Owner of Trump hotel in Toronto canceled its contract in June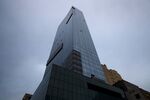 Donald Trump's family company said its management and licensing agreement for the Trump SoHo Hotel was bought out by the New York property's owner, marking the second time this year the Trump name will be removed from a hotel-condominium tower.
CIM Group, a Los Angeles-based investment firm, will end the use of Trump's name at the tower in the hip lower Manhattan enclave by the end of the year, the Trump Organization said in a statement Wednesday. The hotel has struggled to attract guests, while condo sales have fallen short of expectations.
The canceled deal follows an agreement reached in June for JCF Capital ULC, the closely held U.S. firm that owns the Trump International Hotel & Tower in downtown Toronto, to exit its contracts with Trump Hotels. While no breakup fee was disclosed, the amount was at least $6 million, according to a person with knowledge of the matter. The Toronto hotel is being rebranded as a St. Regis, one of Marriott International Inc.'s luxury flags.
"If you were going to sell the property, you would negotiate a termination option so it's unencumbered for somebody to bring in their own flag," said Bruce Bradley, president of Castleton Holdings LLC, a hotel developer based in Washington. "Gaining a foothold in the New York marketplace is always highly coveted."
Trump's divisive rhetoric has hurt patronage of his hotels in politically liberal New York and elsewhere. The average price of a luxury room at his hotels has dropped by 20 percent since his inauguration, with Trump's Las Vegas hotel quoting rooms 64 percent cheaper than in January, according to FairFX, a U.K.-based provider of travel-currency services.
The termination comes amid a deepening probe into alleged Russian influence on the 2016 presidential election. The SoHo project was done in partnership with Bayrock Group, a dormant real estate development firm that once operated inside Trump Tower and tried to connect Russian investors with Trump for deals in Moscow. One of Bayrock's principals was a career criminal named Felix Sater who had ties to Russian and American organized-crime groups.
Management contracts at luxury hotels typically run for 20 years or more. Trump Hotels and CIM had made changes at the hotel before terminating the contract, including replacing the food and beverage manager. The SoHo property has suffered from a lack of investment since CIM bought the hotel out of foreclosure three years ago.
'A Dollar'
"The hotel hasn't had a dollar spent on it by its owners for seven years," Eric Danziger, chief executive officer of Trump Hotels, said in a June interview. New York hotels have been beset, meanwhile, by a glut of new construction that has held room rates down.
A termination fee is likely to run into the millions of dollars, said Bradley, the hotel developer.
CIM didn't immediately respond to calls and emails for comment on the agreement, which the New York Times first reported earlier Wednesday.
"The board and CIM have been first class in every regard," Danziger said in the statement Wednesday. "We have truly enjoyed our relationship and look forward to exploring new opportunities in the future."
A year ago, The Trump Place apartment complex in Manhattan's Upper West Side dropped the name of the then president-elect following an outcry by residents. The owner, Equity Residential, said it was "assuming a more neutral building identity that will appeal to all current and future residents." The Trump name, emblazoned in gold letters, was removed from the edifices. 
Before it's here, it's on the Bloomberg Terminal.
LEARN MORE