National
Real Puerto Rico Fiasco Starts After Recovery
The electrical grid is being rebuilt. That won't repair the island's fiscal health, jobs picture, schools, hospitals or government.
by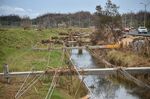 Hurricanes are expensive.
On Friday, the White House asked Congress, which has already approved $52 billion in hurricane aid, for another $44 billion in disaster relief for Florida and Texas. That was well below the $61 billion in funding Texas alone had requested. Puerto Rico, which asked for $94 billion earlier in the week, wasn't even part of the White House's Friday proposal. Republicans and Democrats alike slammed the White House request as inadequate, so Congress could probably be convinced to pony up more money, and include Puerto Rico, next time around.
However the funding comes together, Puerto Rico's residents face challenges that set them apart from their fellow Americans in Texas and Florida. The island was already swamped in debt and bankruptcy before Hurricane Maria tore it apart in September, and the catastrophe has laid bare the extent to which Puerto Rico as a whole is failing.
Puerto Rico's government has defaulted on $74 billion in debt, and it has $50 billion in unfunded public pension obligations. Businesses and the economy have been mired in a decade-long recession, and analysts estimate economic losses of $20 billion to $40 billion since the hurricane hit. A longstanding exodus of residents accelerated after the storm. The public school system is troubled, hospitals and healthcare system hobbled, and roadways clogged. Nearly half of Puerto Rico's population lives in poverty, and the unemployment rate is about 12 percent. The sprawling electricity grid, which traverses rugged mountains to connect the coasts, is about 44 years old — more than twice the age of comparable grids in the mainland U.S.
In that context, all of the emergency funding currently being spent or considered for Puerto Rico amounts to a giant, pricey band-aid.
Much of the spending is necessary, and on a visit last week it was easy to find thousands of public and private workers grappling with dizzying logistics, topography and personal sacrifices to try to restore power and a sense of normalcy. But much of their work will amount to temporary fixes. After the emergency workers leave, Puerto Rico could simply collapse into something more chaotic and hopeless than even the fiercest storm could inflict -- unless the public and private sectors take advantage of the emergency and develop long-term solutions to the island's problems.
The antiquated electrical grid has been the subject of much attention, and for good reason. It's emblematic of Puerto Rico's travails.
On Saturday, a large crew of electrical engineers and line workers employed by the Fluor Corporation, a contractor hired by the U.S. Army Corps of Engineers, replaced power lines along a roadside east of San Juan. It was slow work. Each 65-foot concrete pole weighs about 12,800 pounds and trucks can only transport two or three of them at a time. And getting them to spots around San Juan is relatively easy compared to getting them up into the mountains. Still, traffic has to be halted, holes have to be drilled, prefabricated foundations have to plug the holes, and then the poles have to be slotted into the foundations. Cranes and trucks used for the work were sent here on cargo ships or airlifted in.
About six of these poles can be installed on a good day, and thousands of them have to be put up around the island. After that, they can be draped with transmission wires. Much of Puerto Rico's 6,000 miles worth of electrical lines — enough to stretch from San Juan to Cairo — will have to be tested and replaced. A huge shipment of new electrical and construction supplies was to arrive in the southwestern port of Ponce on Monday.
The Army Corps' mandate is repair though, not renewal, and when all of this work winds up Puerto Rico will have a well-bandaged version of its old grid. Solar power has been kicked around as a clean, contemporary alternative for this sun-drenched island, but no one here thinks solar can be installed and booted up to meet urgent short-term energy needs. No one thinks acres of solar panels could survive another hurricane, either. But how well will the rebuilt grid do next time a mega-storm hits?
A flock of Army engineers and workers are managing grid repair from rectangular card tables inside the sleek, glassy — and now water-damaged and mold-ridden — offices of the Puerto Rico Electric Power Authority, or Prepa. A small whiteboard on a wall there notes that as of Nov. 18, 59 days had passed since Hurricane Maria made landfall and 44.7 percent of the island's pre-storm generating capacity had been restored.
The Army Corps speaks highly of Prepa and describes it as a dedicated, transparent and helpful partner, but Prepa, which declined my repeated interview requests, just had a bad week.
The chief executive, Ricardo Ramos, resigned on Friday amid questions about why his agency entered into what critics called a sweetheart contract to repair part of the grid with a small Montana contractor, Whitefish Energy. (The contract may well have been relatively straightforward given the circumstances, but that's for a future column.) Ramos had also hired at least one questionable character for a consulting job, so that may have weighed against him as well.
Ramos was on to a few things, however. He had been candid in the past about what a bankrupt basket case Prepa is, and in congressional testimony last week he noted that the authority has been a honeypot for local politicians. He said about half of Prepa's staffing consists of local politicians' family members.
Puerto Rico's governor, Ricardo Rossello, the son of a former governor who helped set Puerto Rico on its disastrous fiscal path, now has a chance to exercise greater control over Prepa, as my Bloomberg News colleagues Jonathan Levin and Rebecca Spalding have noted. What does he want to do to streamline and clean up its management? Will he completely privatize it? That's unlikely, given that he just successfully resisted turning over control of the authority to an outside, independent board. At a minimum, Prepa needs a radical shake-up.
That outside board, by the way, already monitors the island's tattered public finances. And what's to be done about that $124 billion of combined debt and pension obligations hanging over Puerto Rico like a guillotine? Those obligations are just as perilous as the island's broken grid, and there's no good resolution in sight about how to meet them responsibly without throttling any chance for an economic rebound.
Wrestling that financial mess to the ground could use some creative engagement from the federal government, while taking cues from past experience in the U.S. around municipal meltdowns in places like New York and Detroit. President Donald Trump, the self-described "King of Debt," could lead the charge. It may be in his self-interest to do so.
Payrolls are declining dramatically in Puerto Rico, and with jobs evaporating it's likely that the exodus from the island will swell. The 3.4 million Puerto Ricans who reside on the island can't vote in presidential elections; those who move to states like Florida can. They are likely to have long memories when the 2020 campaign rolls around.
To contact the editor responsible for this story:
Jonathan Landman at jlandman4@bloomberg.net
Before it's here, it's on the Bloomberg Terminal.
LEARN MORE