Trump Disaster Assistance Request Draws Bipartisan Criticism
By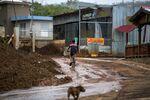 A White House request for $44 billion in disaster aid came under intense criticism from Republicans and Democrats, making it likely Congress will provide a higher level of aid for Puerto Rico, Texas and Florida.
The White House request Friday united both parties in opposition. Lawmakers said the request lacked enough money to cover damage from hurricanes.
John Cornyn of Texas, the No. 2 Senate Republican, called the request "wholly inadequate" and said he would work to improve its provision for hurricanes and wildfires. Florida Representative Dennis Ross issued a blistering statement over a lack of funds for his state's citrus industry.
Texas Republican John Culberson, a senior member of the House spending panel, called the request "completely inadequate" and said it showed a "complete lack of understanding of the fundamental needs of Texans."
The request was far less than what was requested by Texas and Puerto Rico. The White House said damage assessments haven't been completed for Puerto Rico and the U.S. Virgin Islands, and a further request is planned.
"Once again the Trump Administration has proven it lacks the will to help Puerto Rico in a comprehensive manner," according to a joint statement from Democratic Representatives Jose Serrano and Nydia Velazquez, both of New York, and Luis Gutierrez of Illinois. "More must be done now."
Before it's here, it's on the Bloomberg Terminal.
LEARN MORE