Deals
Trump's Already Tainted U.S. Antitrust Lawyers
However the Justice Department rules on the AT&T-Time Warner deal, the reek of politics will linger.
by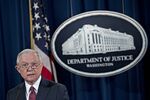 I spent part of Thursday reading and listening to people pooh-poohing the thesis I laid out in the morning—namely, that the U.S. Justice Department was putting roadblocks in the way of the proposed AT&T-Time Warner merger because President Donald Trump wanted to stick it to CNN, which is a Time Warner Inc. property.
QuickTake Q&A: Can Trump Block the Deal?
I bumped into Dan Primack, the deals columnist at the website Axios, around noon. He told me that the rumblings he was hearing was that Trump had nothing to do with the Justice Department's surprising insistence that AT&T Inc. sell off either DirectTV or Turner Broadcasting (which includes CNN) to approve the deal. Justin Elliott of Pro Publica tweeted that the scrutiny the deal was suddenly getting was merited:
Not surprisingly, Trump's new antitrust chief, Makan Delrahim—who, please recall, had said the deal did not pose "major antitrust problems" before he got the job—insisted to the New York Times that "facts and law" would guide his decisions, not politics. "That would be antithetical to everything I've stood for," he said. At the New York Times Dealbook conference, AT&T's chief executive, Randall Stephenson, while expressing both surprise and irritation at the Justice Department's demands, also said that he had seen no evidence of the president's involvement.
Indeed, David Dayen at The Nation and my Bloomberg View colleague Matt Levine both hypothesized that it was actually AT&T spreading the rumor that the resistance from Justice was all about CNN, playing on the public's mistrust of the president. "If the Justice Department is trying to block your merger and you think you can create public and political pressure against its position, why wouldn't you?" asked Levine.
Well, maybe. But let me give you two reasons why I remain skeptical.
The first is that the modern history of antitrust law virtually demands that the deal be approved without any divestitures. As I mentioned on Thursday, it is a vertical merger, meaning that neither company competes with the other in any of their businesses.
In 1984, the Justice Department issued guidelines that essentially say that vertical mergers should be approved unless they are likely to block new market entrants. In a 2011 update of the guidelines, Justice added this:
In appropriate vertical merger matters the division will consider tailored conduct remedies designed to prevent conduct that might harm consumers while still allowing the efficiencies that may come from the merger to be realized.
In other words, Justice said that the way to deal with potential harm to consumers is not by forcing the companies to shed assets, but by insisting that the merged company hew to a set of behavioral changes laid down by the government.
In a recent article in Techcrunch, Senator Al Franken makes the case, embraced by many liberals, that behavioral remedies don't work. He points specifically to the Comcast-NBCUniversal merger:
The new Comcast/NBC placed MSNBC and CNBC (channels it now owned) near other news networks on its TV channel lineup, while consigning competitor Bloomberg News to the outer reaches of the dial.
That is true, but Bloomberg protested to the Federal Communications Commission—saying that Comcast was violating the behavioral remedies it had agreed to—and in 2013, it won. That's basically how it's supposed to work.
Critics who support the Justice Department's tough new stance also argue that once AT&T got its hands on Time Warner's television content, it could use its new power to keep valuable networks like HBO, TNT and CNN from rival distributors. But this is a ludicrous argument. As the economist Hal Singer put it recently in Forbes:
CNN's value depends on its ability to attract advertising, which in turn depends upon the size of its audience, effectively compelling AT&T to make it as broadly available as possible.
What makes Justice's demand even more perplexing—OK, suspicious—is that the divestitures the government is seeking really don't make a lot of sense. It is said to want AT&T to shed either Turner Broadcasting or DirectTV. But if it gets rid of Turner while still owning HBO and Warner Brothers, what exactly has been accomplished? Don't they pose the exact same issues as Turner Broadcasting?
As for DirectTV, although it is a nationwide service, it has fewer subscribers than Comcast, whose footprint covers less than a quarter of the country. How, then, do you make the case that antitrust law permits Comcast, with 23 million cable customers, to own NBCUniversal, but forbids AT&T from keeping Direct TV, which has 22 million customers, if it wants to buy Time Warner?
That's going to be a hard case to make in court, if that is where this fight winds up. And it may well. At the Dealbook conference, Stephenson said that he has no intention of agreeing to any divestitures—certainly not CNN!—and is ready to litigate if the Justice Department doesn't drop its demands.
The professionals in the antitrust division have to know that Stephenson has the upper hand. For 30 years now, antitrust law has focused on only one question: Is the behavior, or the merger, harmful to consumers? If the answer is no, the merger goes through. Given the way streaming services and cord cutting have put pressure on cable and satellite providers, Justice would be hard pressed to argue that an AT&T-Time Warner merger will hurt consumers.
I also have a second reason for believing that Trump's antipathy for CNN has been a factor. Here it is. I agree that it is unlikely that Trump or someone else in the White House called the antitrust division and demanded that it get tough on AT&T. But nobody has to. Everyone knows Trump is opposed to the merger, and that he would love to use his position as president to torture CNN. Makan Delrahim has no doubt convinced himself that his turnabout on the deal is the result of taking a closer look. But he also been in the job all of six weeks, and it's in his best interest to show the president that his thinking is aligned with his boss's.
I've heard it said that the career attorneys in the antitrust department would never allow themselves to be swayed by Trump's bellicose opposition. But there are honorable career professionals all over the government who are doing things they could scarcely have imagined a year ago: removing climate change studies from the website of the Environmental Protection Agency; rolling back regulations aimed at for-profit universities at the Department of Education; cracking down on free trade at the Department of Commerce. Why is it so unreasonable to think that it's any different at Justice?
When I spoke to Singer, the economist, he told me that the Justice Department really had no choice but to approve the merger. This was partly because its case was so weak, but also because it was the only way the antitrust division could show it wasn't doing Trump's bidding.
"We're in brand new territory," he told me. "This is a president who goes after his political opponents." If the AT&T fight wound up in court, he added, "the question of Trump's involvement would be a legitimate area of inquiry."
As president, Trump has managed to taint virtually everyone and everything he has come into contact with. He has now tainted the antitrust division. Because he so often condemned CNN and stated his opposition to the deal, no matter where Justice comes down on the AT&T-Time Warner deal, the odor of politics will always hang over its decision.
To contact the editor responsible for this story:
Jonathan Landman at jlandman4@bloomberg.net
Before it's here, it's on the Bloomberg Terminal.
LEARN MORE