Even Trump Might Not Be Able to Stop This Merger: QuickTake Q&A
by and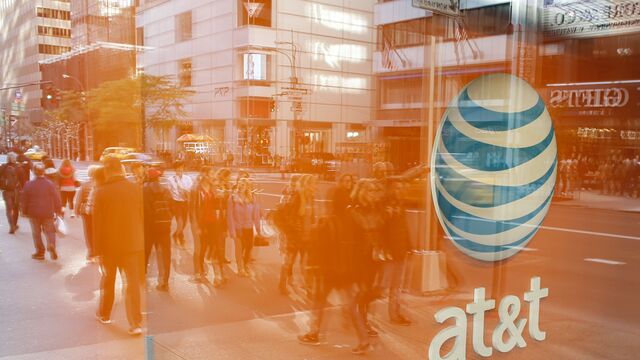 Federal antitrust officials looking at the proposed $85.4 billion merger of AT&T Inc. and Time Warner Inc. are still reviewing whether it might hurt consumers. The president, strangely enough, has already weighed in. While a candidate, Donald Trump said his administration wouldn't approve an AT&T-Time Warner marriage because that would put "too much concentration of power in the hands of too few." As president-elect, Trump met with AT&T executives in New York. The question now is whether Trump, as president, might try to intervene against the deal.
1. Could Trump block the deal?
The president doesn't have direct authority to stop a proposed merger. That power rests with the Justice Department or the Federal Trade Commission, which can sue to block a merger they consider anti-competitive. (In the case of AT&T-Time Warner, the Justice Department is in charge.) The Federal Communications Commission also can have a say on media and telecommunications deals, though it might not get a chance on this one. A president could try to influence the regulatory review of a merger, by pushing officials to impose conditions or to block the deal entirely, though that might skirt the bounds of propriety.
2. Has a president done that?
According to biographer Robert Caro, Lyndon Johnson, in 1963, won a promise of support from the Houston Chronicle by threatening to block approval of a merger between two Houston banks, one of which was led by the newspaper's president.
3. Can't Trump's nominees get the result he wants?
Trump's choice for attorney general, Senator Jeff Sessions of Alabama, who would oversee the antitrust division at the Justice Department, has vowed to keep politics out of merger reviews. Ajit Pai, the Republican FCC commissioner named by Trump to lead the agency, hasn't commented on AT&T/Time Warner but has been critical of merger reviews as too slow and too intrusive.
4. What exactly has Trump said?

"As an example of the power structure I'm fighting," he said on Oct. 22 in Gettysburg, Pennsylvania, "AT&T is buying Time Warner and thus CNN -- a deal we will not approve in my administration because it's too much concentration of power in the hands of too few." (Since then, his animosity for CNN -- the cable-news unit of Time Warner -- has only deepened.) On Jan. 17, days before taking office, Trump said of the proposed merger in an interview with Axios, "I have been on the record in the past of saying it's too big and we have to keep competition. So, but other than that, I haven't, you know, I haven't seen any of the facts, yet."
5. Will Justice also see the merger as anticompetitive?
If so, that could be tough to prove in court, since AT&T isn't buying a direct competitor.
6. What's the FCC's role?
It considers additional questions loosely defined as the public interest -- such as whether a deal will block innovation or reduce diversity in the media voices that reach the public. Those extra considerations can amount to a higher hurdle for the deal to clear.
7. So will the FCC step in here?
Maybe not. Its involvement is triggered by the transfer of federal airwaves licenses, something AT&T is trying to avert. A company the size of Time Warner might have dozens of FCC-issued licenses, including some for the big dishes that feed programming up to satellites. AT&T could avoid license transfers by, for instance, abandoning or surrendering licenses and using a third party to provide some of those services.
8. Why such effort to avoid the FCC?
The FCC can, for all purposes, kill a deal by sending it to a months- or even years-long review before an internal judge. The billions of dollars needed to fund a big deal can't wait around that long, and ground shifts under corporate feet as industries evolve. The possibility of an FCC hearing helped to force AT&T and Comcast to back out of mergers in recent years.
9. Did Trump address the merger with AT&T executives?
No, according to AT&T Chief Executive Officer Randall Stephenson, one of the company leaders who spent 40 minutes with the president-elect at Trump Tower on Jan. 12. The company said the conversation touched on job creation, investment and competition. Even so, the closed-door meeting set off alarms inside the Justice Department, where attorneys in the antitrust division are usually given a wide berth to render an independent judgment based on the merits and the law -- free even from the appearance of political pressure from above.
10. What potential issues does the deal raise?
Regulators will ask whether combining Time Warner's movies and shows with AT&T's continent-spanning network will reduce competition and lead to higher prices. For instance, the combined company could theoretically say that the only way to get HBO (part of Time Warner) is to subscribe to AT&T. Another question will be whether AT&T might charge competitors extra for Time Warner fare, to burden them with added cost. Then there's this dynamic: With the deal, AT&T gains an interest in having customers connect to its particular properties (such as CNN and HBO) rather than somebody else's (Fox News, say, or Netflix). In other words, AT&T has a chance to change what the public sees -- and thinks.
11. What's the case in favor of the merger?
In antitrust parlance, the proposed merger is a vertical deal -- one between companies up and down the supply chain. That in theory should make the combined company more efficient. Horizontal deals, between companies in the same line of business -- like when two airlines get together -- are, generally speaking, more likely to run afoul of antitrust regulators because they may reduce choice and give the combined firm the power to raise prices. "This is a classic vertical merger and it eliminates no competitor from any market," Stephenson told U.S. senators at a hearing in December. "In fact, it increases competition, particularly against the cable companies. And our intent is to disrupt the existing pay-TV model." Stephenson has said that the purchase is premised on getting expensive content into as many homes as possible.
The Reference Shelf
Before it's here, it's on the Bloomberg Terminal.
LEARN MORE