Sparklines
Porsche's Passport to the New Mobility
Why buy a car when you can get whatever you want -- or need -- on demand?
by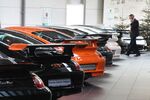 Porsche will soon be giving subscribers access to a suite of its vehicles on demand. At first glance, the app-based Passport program -- which will charge either $2,000 or $3,000 a month and will be initially offered to select users in Atlanta -- seems to be just an expensive way to get around. But beneath the surface, it (and its Cadillac predecessor) might be more than a rich person's toy. Cars on demand, or Porsche as a service, might be about getting jobs done in a high-end way.
First, the numbers. Passport's Launch tier gives subscribers a choice of four vehicles; the more expensive Accelerate tier gives users access to more. Both allow subscribers access to a car, for as long as desired, with the ability to swap at any time; Porsche will deliver, clean and insure the cars as well. Consider it the hotel room of cars.
The plans obviously aren't cheap, but it doesn't take much creativity to see how a wealthy driver who only needs one vehicle at a time -- but definitely wants that car to be a Porsche -- could justify the spend. Imagine a well-off retiree living out his or her all-Porsche, all-the-time dreams by summoning a Carrera Cabriolet for weekend driving, a Panamera for around-town shopping, and a Cayenne for trips to the ski lodge. The monthly cost to lease each car individually would exceed $3,500 per month before insurance, servicing, cleaning and garaging. Having access to all those options at once would cost significantly less than leasing or buying each of those cars individually, only to have them sit mostly idle.
The Passport program seems quite upfront about who its potential customers are. While many if not most Porsche owners imagine themselves in a Carrera or even a 918 Spyder, what they actually buy are SUVs.
In the past nine years, Porsche (at least in North America) has become an SUV company that also happens to have a small sedan business and steadily shrinking relative sales of sports coupes.
These are the numbers that make me think Passport-style plans could make sense far beyond Porsche.
My personal auto-use case is a good example. Most of my uses are toddler-related, with the primary ones being a daily commute to daycare and work, then weekends of shopping and visiting distant relatives. One is 50 miles every workweek; the other is 300 miles per weekend road trip. The former could be easily done in the smallest electric car that can fit a child seat; the latter all but demands a station wagon or SUV with enough room for family things and enough ground clearance for rough country roads. At the right price point, I would be happy to meet each need with two different vehicles, neither of which I own or lease.
Porsche's Passport, and programs like it, address the inherent compromises most car buyers or lessees make. We want the supercar; we need the SUV. For almost everyone, the need is superior to the want. Passport equalizes want and need while still doing the fundamental job of "be a Porsche."
Two American academics recently published a thoughtful analysis on why car ownership may no longer be a good deal. After accounting for lost time, stress and financial resources devoted to an asset that sits idle 96 percent of the time, owning a car doesn't really sound like a good deal. Perhaps that's the real need that Passport and its peer programs fulfills: the flexibility and delight of not owning a car at all.
Weekend reading
Get Sparklines delivered to your inbox every week. Sign up here.
To contact the editor responsible for this story:
Brooke Sample at bsample1@bloomberg.net
Before it's here, it's on the Bloomberg Terminal.
LEARN MORE