White House
Felix Sater Is a Lean, Mean Trump-Russia Machine
A career criminal keeps popping up to reveal Trump ties to Russia.
by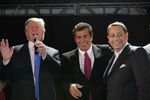 Felix Sater is back, and making it even more difficult for President Donald Trump to write off questions about his ties to Russia.
Among the many characters who have populated Trump's checkered history in real estate, Sater is the guy with one of the diciest resumes. A career criminal with ties to both organized crime and federal law enforcement, he partnered with Trump for years on a series of high-profile and unsuccessful real estate deals, including the Trump Soho hotel and condominium in Manhattan.
On Monday, the New York Times and the Washington Post disclosed a series of emails involving Sater's efforts in 2015 and 2016 to help the Trump Organization build a Trump Tower knock-off in Moscow. There's is a little hitch that makes that noteworthy: Trump was also running for president at the time.
"Our boy can become president of the USA and we can engineer it," Sater wrote in an email to Trump's personal attorney, Michael Cohen, in 2015. "I will get all of Putins team to buy in on this, I will manage this process."
According to Bloomberg News, Cohen recently told a congressional committee investigating Trump's ties to Russia that he debriefed Trump three times about the Moscow deal. But Cohen apparently had a different impression than Sater of the value of the deal, telling congressional investigators that it "was not related in any way to Mr. Trump's presidential campaign."
Members of TrumpWorld have spent months attempting to draw bright lines between themselves and Russia, with Trump himself claiming he had "nothing to do with Russia" and labeling anyone seeking to prove otherwise as part of a "witch hunt." But a steady stream of recent email disclosures that detail what Trump and his minions were actually doing during the 2016 campaign has taken the wind out of those arguments.
Law enforcement and intelligence officials also have publicly stated that they believe that the Kremlin worked to tilt the 2016 election in the president's favor, and Robert Mueller's team at the Justice Department is examining whether the Trump campaign colluded with the Kremlin. As a result, the Trump family's business and financial operations are facing more federal scrutiny than ever.
The business aspects of Mueller's investigation are significant because they could establish whether or not the president or his campaign team were looking for financial quid pro quos in exchange for possibly colluding with the Kremlin. (A similar issue is dogging the president's son-in-law, Jared Kushner, who met with Chinese and Russian financiers last year as he tried to bail out his family's investment in a struggling skyscraper on Fifth Avenue.)
Trump's partnership with Sater also presents lots of interesting questions. Sater, who migrated to the U.S. from Russia when he was a child, went on to serve prison time for assault as an adult. Federal authorities later prosecuted him for his role in a sprawling investment scam targeting senior citizens and Holocaust survivors and involving Russian and American organized crime members. He avoided prison time for that one by cooperating with law enforcement officials in their investigation and providing intelligence information -- apparently gleaned from government and intelligence contacts he had in Moscow -- to the U.S. government.
Sater later joined a real estate firm, the Bayrock Group, which did business from a suite of offices two floors beneath the Trump Organization's headquarters in Trump Tower. Trump went on to partner with Bayrock from about 2002 to about 2010, essentially lending the company his name and his marketing mojo in exchange for lucrative payments and an equity stake in one of their joint projects, the Trump Soho.
A former Bayrock executive, Jody Kriss, has sued Bayrock, alleging that it was simply a money laundering operation with murky funding from overseas. He also claims that the Bayrock team skimmed cash from the company, dodged taxes, and cheated him out of millions of dollars. Sater and others at Bayrock have said in court documents they dispute Kriss's charges, calling him a disgruntled employee trying to strong arm them for money.
Kriss told me in an interview earlier this year that Sater claimed that Bayrock -- during the time it was doing deals with Trump -- had to favor a partnership with one Icelandic investment bank because it was "closer to Putin." A Kremlin spokesman told me that Russian President Vladimir Putin wasn't familiar with Sater or Bayrock, and that Putin had no connection to the Icelandic bank.
For his part, Trump has gone out of his way to distance himself from Sater over the years. (Trump sued me in 2006 when I worked at the New York Times, alleging that my biography, "TrumpNation," misrepresented his business record and his wealth. Trump lost the suit in 2011; my lawyers deposed Trump and Sater during the litigation.)
Trump, who met with a variety of Russian investors in his Trump Tower office in the early 2000s, told my lawyers in 2007 that he was unaware of Sater's criminal ties but that he would look into the matter. For his part, Sater told my lawyers that he met with Trump frequently at Trump Tower to discuss deals. He also said that he prospected for deals in Moscow with Trump's eldest son, Donald Jr., and his daughter, Ivanka.
Yet in a 2013 deposition taken as part of litigation involving the failure of a Trump-Bayrock project in Florida, Trump said he didn't know Sater very well. "If he were sitting in the room right now I really wouldn't know what he looked like," he said.
This, of course, wasn't true. Trump had joined Sater for ribbon-cuttings on their projects, traveled on business with him, and later hired him as a consultant carrying Trump Organization business cards. Sater has also claimed that he was so cozy with the Trump family that he arranged for Ivanka to sit at Putin's desk in the Kremlin. And, as we now know from the new emails disclosed yesterday, Trump took briefings on a project Sater and Cohen were trying to engineer in Moscow in 2015 and 2016. (Sater and Cohen, who have been friends since they were teenagers, also reportedly teamed up earlier this year to try to sell the White House on a peace plan for Ukraine.) 
Cohen and Sater's email exchanges are likely to be of interest to Mueller and his team, and they may afford him the opportunity to broaden the list of Trump Organization staffers he plans to interview.
Trump's attorneys have complained about the expansion of Mueller's investigation, arguing that it should be narrowly focused on possible collusion during the 2016 campaign and not on the president and the Trump Organization's business dealings. But the disclosure of the Cohen and Sater emails have made it harder for Trump's lawyers to keep making that argument.
To contact the editor responsible for this story:
Mike Nizza at mnizza3@bloomberg.net
Before it's here, it's on the Bloomberg Terminal.
LEARN MORE