Prophets
Chinese Efforts to Stem Housing Bubble Show Promise
New regulatory and monetary tightening policies are starting to rein in developers and speculators.
by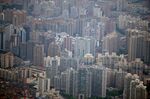 Among the biggest worries for investors globally is the health of China's real estate market. The concern is that after one of the biggest speculative booms in history, the market will come crashing down and take the global financial system with it. Outstanding credit at the end of 2016 in the world's second-largest economy amounted to 258 percent of gross domestic product, up from 162 percent a decade earlier.

Investors can breathe a little easier. The early results by authorities to stem the speculative bubble are encouraging. After a series of trials and errors, the regulatory and monetary tightening policies that have been announced in the past six months are starting to rein in developers and speculators. Based on data recently released by the National Bureau of Statistics, new home sales by value rose 8 percent to 855 billion yuan ($124 billion) from a year earlier, the smallest gain since March 2015, according to Bloomberg News.

Since President Xi Jinping said at the annual Central Economic Work Conference in December that "houses are built to be inhabited, not for speculation," the central government's plan to get housing under control has been strong and clear. The consensus among decision makers is that without curbing speculative activities, driven by both home buyers and developers, the stability of the economy and the society will be endangered. Stabilizing the housing and financial markets has been elevated as a national security issue.

About 60 Chinese cities have enacted more than 150 restrictive policies on home purchases and prices since March. The new round of tightening measures target lower tier cities that have become popular destinations for speculators, who are no longer eligible to buy homes in tier 1 and tier 2 cities. For example, Foshan extended purchasing restrictions from new homes to existing homes effective on June 1, 2017. 



Non-local residents won't be allowed to buy second homes without providing a record of local income tax payments. Also, local residents are not allowed to buy three or more homes in Foshan. Third and fourth tier cities are now seeing the majority of the nation's housing transaction volume. Today, 60 percent of new home sales occur in third and fourth tier cities, compared with 13 percent in tier 1 cities and 27 percent in tier 2 cities. 
To supplement the regulatory policies, the People's Bank of China has told all commercial banks, whether state owned or private, not to expand their loans to developers and their mortgages to home buyers. More specifically, the mandate is that net mortgage lending to consumers cannot grow sequentially month-over-month and that lending to developers must decline to curb rising land and housing prices. 
Beyond bank lending, credit has also tightened in the offshore bond market. After a first-quarter surge in dollar-denominated debt issuance by Chinese developers, the National Development and Reform Commission has reportedly stopped granting new quotas to developers for such offshore bond sales. With large bond maturities looming in 2018, developers will be more cautious when bidding on land, which should help temper price appreciation.
It took a while for officials to realize the key to curbing speculative housing demand, but they are finally on the right path.
--With assistance by Wan Li of Solitude Capital.
To contact the author of this story:
Junheng Li at junh@jlwarrencapital.com
To contact the editor responsible for this story:
Robert Burgess at bburgess@bloomberg.net
Before it's here, it's on the Bloomberg Terminal.
LEARN MORE