National Security
Trump Hits the Road. What Could Possibly Go Wrong?
A Q-and-A with former national security aide Loren DeJonge Schulman, who went on lots of bumpy adventures with Barack Obama.
by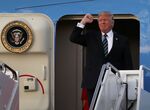 President Donald Trump is off to the Middle East, Brussels and Sicily -- not to mention a quick chat with Pope Francis. Especially for man who has made plain his distaste for foreign travel, nine days is a long time for the full presidential coterie to be on the road. What could possibly go wrong? To get some insight into that rather tired joke, I decided to talk to somebody who's been through all the practical hurdles of such trips more than once.
Loren DeJonge Schulman, a senior fellow at the Center for a New American Security, was senior adviser to former National Security Adviser Susan Rice, and was thus part of President Barack Obama's coterie around the globe: East Asia, Mexico, Russia and three of Trump's destinations: Saudi Arabia, Italy and Belgium. Here's an edited version of our discussion.
TH: Loren, in addition to politics and diplomacy and exchanging silly gifts, these trips must be logistical nightmares. What are the biggest hurdles?
LDS: Well, Toby, the infrastructure supporting a president traveling is astounding in terms of communications and transportation, but it never quite works as intended. Logistics staffers take care of passports, luggage and hotel check-in, but you still need to remember not to pack up the next day's pants before bag call. The president has dozens of events a day, from meeting with heads of state to visiting human rights groups to museum exhibits. If some crisis erupts, the staff has desperate moments trying to change the schedule or write up new talking points. That's made even harder because of the time difference in Washington -- emails take longer, phone calls drop.
TH: Speaking of crises, there seem to be a lot of them whenever a president goes abroad. For Obama, this included the 2016 terrorist attacks in Paris and Brussels, as well as the attempted 2009 Christmas Day airliner shoe-bomb attempt. Is there a reason for this?
LDS: It's entirely possible that terrorists and rival powers see this as an opportunity. Crises also present a big reaction problem. It's very difficult for folks on the road to get a sense of the vibe in the U.S. You can read the news or watch TV but you are not getting the full picture. If the president responds to it by talking to reporters or other heads of state, that does not filter back to the U.S. audience as well as if he is home. And if the domestic audience is feeling fear or frustration with potential future threats, it doesn't get back to the president to act on.
TH: What are the particular problems the Trump team may face as opposed to Obama and other previous presidents?
LDS: Trump can't watch CNN or be on his smartphone all day the way he likes. And there are a lot of things that may need attention: Iran's presidential election, rising tensions in the South China Sea and with North Korea -- it seems likely that there will be events to respond to, and a very different kind of audience than he has had the last few months. Reacting to crises at NATO and G-7 summits is very different than sitting in the White House, and Saudi Arabia too. You have prime ministers and presidents and kings there with you, and there's pressure to show them you are on top of things. That may lead to rash decisions or freelancing.
TH: Foreign presidential trips are usually made with a small staff, right? But not this time.
LDS: Normally it's just the national security adviser, his NSC experts, and a small group of West Wing staffers -- on top of all the logistical staff. But Trump is bringing everyone he trusts: his daughter Ivanka, her husband Jared Kushner, top policy advisers Stephen Miller and Steve Bannon, and others. If something huge comes with one of the New York Times or Washington Post 5:30 p.m. news drops, there is no real team in Washington to deal with it, and exhausted people on the road will have to get woken up to deal with it.  
If there is a foreign or security crisis, National Security Adviser H.R. McMaster should be the guy in the room with him. But McMaster also has his own schedule, meetings with his counterparts, who will want to hear from him on alliances and intelligence sharing. And he's not really an expert on Israeli politics or NATO issues. There's been a lot of reporting of tension between him and the president. In a crisis, that would be exacerbated. We'll get a sense of who's who in the zoo. If they get along, McMaster could come home as the guy. Or he could lose a lot power.
TH: Last, what's the day-to-day slog like for you staffers?
LDS: Exhausting. It's like going to Disneyland and Disney World and another amusement part and another amusement park with a family of 12 toddlers. With the added benefit that those 12 toddlers won't get meals or to bed on time.
To contact the author of this story:
Tobin Harshaw at tharshaw@bloomberg.net
To contact the editor responsible for this story:
Philip Gray at philipgray@bloomberg.net
Before it's here, it's on the Bloomberg Terminal.
LEARN MORE