Editorial Board
Trump's Saudi Agenda
The president, bearing a basket of arms deals, should get some reassurances from the royal family.
by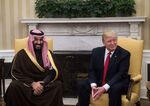 Given what's going on in Washington, Donald Trump must be looking forward to his first trip abroad as president. At least the prospects for a successful first stop, in Saudi Arabia, look promising.
Ever since Deputy Crown Prince Mohammed bin Salman visited Washington in March, U.S. and Saudi officials have been working to ensure that there will be big deals to announce over the weekend. These could include some $100 billion in U.S. arms sales, tens of billions in Saudi investments in U.S. infrastructure projects, and a host of agreements between Saudi Aramco, the state-owned oil giant preparing for a possible initial public offering later this year, and U.S. companies.
The U.S. has a strong interest in the success of Prince Mohammed's ambitious Vision 2030 blueprint to wean the Saudi economy off its dependence on oil exports. Despite the kingdom's vast wealth, youth unemployment is soaring, and the International Monetary Fund considers the government increasingly unstable. A political crisis there would inflame the entire Middle East.
The Saudis and their Gulf neighbors have pledged to do far more to ensure their own security, and Trump should push for a more coordinated regional response to Iranian ambitions and terrorism. He should also demand the Saudis give a better sense of strategy for their atrocious war in Yemen, where their efforts to bomb the Iran-backed Houthi rebels into submission have resulted mostly in civilian carnage.
As with anything involving Donald Trump, there are a few notes of caution in terms of rhetoric and appearances. First, he cannot be seen as taking sides in the battle for succession between Prince Mohammed and Crown Prince Muhammad bin Nayef. (He can be more candid with the ruling family about how its support of extremist Wahhabi preachers and Islamic "charities" endangers both their kingdom and the wider world.)
Second, openly acknowledging the growing diplomatic and security ties between Saudi Arabia and Israel would be a mistake. Their cooperation is hardly a secret, but making too much of it could lead to backlash among hard-liners in the kingdom and the rest of the Arab world. Last, with Shiite-Sunni cooperation becoming ever more important in the fight against Islamic State, this isn't the time or place to make incendiary comments about Iran.
And then there is the matter of Trump's promised speech on how the Islamic nations must confront radical ideology. Trump's predecessor, who was considerably more eloquent, did not have much success with his address on a similar theme in Cairo in 2009. It's unlikely that a less nuanced speech would fare better. And Trump's goal on this trip -- in Saudi Arabia and the next two stops, Israel and the Vatican -- should be not to make any unforced errors.
--Editors: Tobin Harshaw, Michael Newman.
To contact the senior editor responsible for Bloomberg View's editorials: David Shipley at davidshipley@bloomberg.net.
Before it's here, it's on the Bloomberg Terminal.
LEARN MORE