Editorial Board
Europe Ought to Seize the Macron Moment
The new French president is right to call for EU reform.
by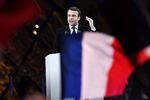 Europe's leaders are thrilled that Emmanuel Macron beat Marine Le Pen in the French presidential election -- and they should be. Yet they ought to keep their celebrations brief, because they need to start thinking now about how to help Macron make a success of his presidency.
Le Pen's angry nationalism gave voice to widespread dissatisfaction with the European Union, which threatens not only the political and economic stability of the euro zone, but the survival of the union itself. This anti-EU sentiment will outlast her candidacy. One voter in three backed Le Pen, and many of Macron's supporters are less than enthusiastic. Resentment of the EU persists, and not just in France. Europe's leaders need to recognize this, and help Macron prove that Le Pen was wrong.
To be sure, the new French government must be ambitious on its own account. Domestic reform aimed at making the French economy more efficient is essential, as Macron has argued, and that won't be easy for a president lacking a political party. But he was also right to argue that the EU needs to change. In particular, he called for greater budget flexibility and steps toward closer fiscal integration. Europe needs both.
Why would further European integration appease anti-EU feelings, rather than inflame them? Because the existing arrangements have held back Europe's recovery and threaten to hobble its economies over the longer term. The best way to fight EU antipathy is to treat this underlying economic illness.
A new approach to fiscal policy is crucial. EU rules put unduly tight limits on government borrowing. Yes, they're almost routinely broken; nonetheless, they're damaging. They make it harder to get national budget policy right while persuading voters that EU commitments are adding to their economic woes.
To make matters worse, the euro-zone countries almost never pool their fiscal resources: Money doesn't flow automatically from areas that are growing quickly to those that aren't, as in any normal well-functioning economy. This is the euro system's fatal flaw, because monetary policy can't be used on a country-by-country basis to combat downturns. Europe's protracted slump proved what economists had known all along: Monetary union requires at least some limited form of fiscal union.
Macron has proposed a common euro-zone budget, allowing for infrastructure spending financed by eurobonds. Europe's fiscal conservatives, led by Germany, will be reluctant, fearing their own taxpayers will be left to foot the bill for other governments' excesses. The suspicion is warranted, but there are ways to guard against it. This discussion needs to start in earnest.
Macron has promised to reform the EU -- and the union, without doubt, needs reform. This election has given Europe's leaders a fresh opportunity. They should seize it.
--Editors: Clive Crook, Michael Newman.
To contact the senior editor responsible for Bloomberg View's editorials: David Shipley at davidshipley@bloomberg.net .
Before it's here, it's on the Bloomberg Terminal.
LEARN MORE