Editorial Board
France Must Say Non to Le Pen
Marine Le Pen is an unusually dangerous kind of populist.
by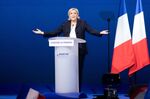 The candidates in this Sunday's French presidential election, Marine Le Pen and Emmanuel Macron, are alike in one way: Both stand outside the mainstream parties, promising an end to politics as usual. That's something France's voters appear to want.
Beyond that, however, the differences are stark, and you could sum them up like this: Macron is a safe choice, and Le Pen is downright dangerous.
Her party, the National Front, stands for militant nationalism and extreme xenophobia. Its former leader -- her father, Jean-Marie Le Pen -- famously described the Holocaust as a mere detail of history. His daughter, unfortunately, is a more effective politician. In an effort to detoxify the FN's brand and expand its base, she expelled Le Pen senior from the party in 2015, restyling herself as the candidate who would "protect" France -- from immigrants, rent-seeking elites, job-destroying competition and terrorists.
Her campaign videos are all windswept shorelines, monuments to French glory and appeals to voters to make a "civilizational choice." Even now the rebranding continues. She stepped down as leader of the party the day after the first-round vote, saying she wanted to broaden its appeal. And last week she announced that a respected center-right politician, Nicolas Dupont-Aignan, would be her prime minister if she is elected.
Beneath the new coat of paint, though, the messages are vintage Le Pen. She rewrites history, denying France's responsibility for the Vel d'Hiv roundup of 13,000 Jews, arrested in 1942 for deportation to Nazi concentration camps. She denounces "Islamists" as threatening the French way of life, and warns of "a totalitarianism which threatens our country." She hailed Donald Trump's election as a harbinger of things to come, "not the end of the world, [but] the end of a world." Actually, Trump seems moderate by comparison.
Le Pen's 144-point election manifesto amounts to an indictment of the post-1945 global order. Her goal is to restore hard borders, the national currency, and state management of swathes of the economy. Immigration would be all but stopped and imports taxed to favor French products. Far from protecting France, these measures would flatten an economy that's already struggling.
In addition, the thinking that underpins them is flatly inconsistent with France's traditional commitment to the European Union. Brexit will be a heavy blow to the EU, but the union can get along without the U.K. The same isn't true for France. A French president as stridently anti-EU as Le Pen would be a mortal threat to the whole European project.
French voters have a lot to be unhappy about. After years of low growth, high unemployment and a scandal-ridden political culture, they're right to feel let down by the main parties, and many see a vote for Le Pen as a protest against an ossified governing establishment. This accounts for her standing in the polls -- at roughly 40 percent, far too high for comfort.
She's the wrong vehicle for this discontent. Electing Macron, a former economy minister with some good ideas on policy, would still send a message that the mainstream parties can't ignore. Electing Le Pen would be reckless in the extreme -- and a setback of historic proportions for both France and Europe.  
--Editors: Therese Raphael, Clive Crook
To contact the senior editor responsible for Bloomberg View's editorials: David Shipley at davidshipley@bloomberg.net .
Before it's here, it's on the Bloomberg Terminal.
LEARN MORE