Prophets
Traders Prepped for the Fed. Then What?
The risk of policy disappointment and the accompanying financial market upheaval is high.
by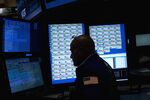 There's no doubt now. The February employment report was strong enough to give the Federal Reserve a green light to raise interest rates when policy makers meet next week. Jobs increased by 235,000, the unemployment rate fell slightly, to 4.7 percent, and average hourly earnings rose 2.8 percent from a year earlier. That reinforces the idea the U.S. economy is close to full employment.
Although markets are now pricing in an increase in the target federal funds rate next week, it was slow in coming and took a series of hawkish speeches and interviews by Fed officials to get the market in line with their plans. Market odds of a 25-basis-point Fed rate hike are about 100 percent, up from about 20 percent after following the last jobs report on Feb. 3. (See what I wrote last month here.)

With the Fed finally embarking on a faster pace of monetary policy tightening, I only see one risk: policy disappointment and the accompanying financial market upheaval. Of course, those haven't happened –- yet. Equity markets continue to price in extremely high levels of optimism. They may be bound for disappointment. I am especially concerned about the outlook for the second and third quarters, when the details of the government's budget will be hammered out.
Significant corporate tax cuts are expected, and any debate that disturbs those expectations would present downside risks to equity markets. But debate is normal, and government budget planning can be a staccato process punctuated by disagreement. This is likely to prove true this year as well. Given the rise in equities on expected corporate tax cuts, the chance for disappointment during this process is high.
While a March Fed rate hike has been almost completely priced into the markets, an increase in the forecasts for the trajectory of future Fed policy actions by members of the Federal Open Market Committee has not. It is my expectation that the so-called dot plot of the federal funds rate in the future is likely to rise in the March 15 report. And next week, the narrative of accelerating Fed policy rate hikes is likely to be further driven by signs of faster inflation. After all, the February import price index rose sharply, which presents upside risks to the March producer and consumer prices indexes.

That is likely to feed a more hawkish narrative -- perhaps too hawkish. The first-quarter gross domestic product report could prove to be a blast of cold water. Although confidence indicators are riding high, so is the dollar. A stronger greenback has weighed on the trade balance in recent months, and it has also weighed on the expectations for first-quarter growth.

The expected pace of GDP, as reported by the Atlanta Fed's GDPNow report, has fallen sharply, from a recent high of 3.4 percent on Feb. 1 to a paltry 1.2 percent as of March 8. In other words, growth expectations for the first quarter of 2017 have softened and become more modest. But the market won't begin to focus on that report until next month, well after the Fed's March 15 gathering.

At Jackson Hole in August 2016, Janet Yellen said, "Our ability to predict how the federal funds rate will evolve over time is quite limited." While the recent FOMC forecasts of Fed policy seem to have been about right, the stronger dollar and risk of slowing growth could keep the Fed at only two to three rate hikes this year, even if the expectations in the March 15 report show the potential to be closer to four.
This column does not necessarily reflect the opinion of the editorial board or Bloomberg LP and its owners.