Prophets
The Shifting Case for a Fed Rate Increase in March
The labor market and inflation expectations have strengthened significantly.
by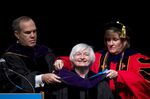 Markets will be looking to Federal Reserve Chair Janet Yellen's congressional testimony today and tomorrow to confirm expectations that a March interest-rate increase is a remote possibility. Yet those expectations could be upended: Yellen is likely to strike a cautiously hawkish tone, as she did in previous testimony and Fed press conferences. In addition, inflation risks are rising, and the labor market has strengthened significantly.

Markets responded to the monthly jobs report on Feb. 3, 2017, as if it was dovish for the Fed, but it wasn't. Although wages rose a modest 2.5 percent in January from a year earlier, and the unemployment rate rose marginally to 4.8 percent from 4.7 percent, the trend of an improving labor market remains unchanged. And jobless claims are extremely low: The average number of applications filed over the past four weeks reached the lowest level since 1973.
Since the end of its quantitative easing program, weak inflation has held back the Fed from raising rates at a faster pace. Even now, expectations for policy remain somewhat dovish. The odds of a rate hike on March 15 are being discounted by financial markets, even though the February Fed statement indicated greater conviction about inflation rising to 2 percent. In one of the few changes of wording, the statement removed all qualifying language regarding higher inflation that had been present in the December statement, including references to energy prices, import prices and the tightening U.S. labor market.

Apparently, qualifiers are no longer needed to justify expectations that inflation "will rise to 2 percent in the medium term." Because of this hawkish change, even if the Fed doesn't raise rates on March 15, the "dot plot'' for rates is likely to rise for 2016 and 2017.

At the press conference after the Fed's December meeting, journalists attempted to get Yellen to voice her opinion on the impact of any fiscal policy stimulus on inflation and Fed policy. She dodged the questions, but senators and representatives will be just as persistent. Fiscal stimulus at a time of full employment is likely to be inflationary, and that could put tighter monetary policy at odds with promised tax cuts and additional infrastructure spending. As a result, fiscal policy stimulus could require additional rate hikes. If Yellen hints at the Fed's need to remain ahead of inflation, markets could more aggressively price in the chance of a rate hike in March.
While markets are discounting the chance of a March rate hike, expectations that the Fed is considering an imminent unwinding of its balance sheet have paradoxically risen. This is a red herring. The euro zone economy experienced a significant slowdown, and flirted with the prospects of a triple-dip recession, partially as a result of the European Central Bank's reduction of its balance sheet in 2013 and 2014. That means a Fed balance sheet reduction remains extremely unlikely for some time. Yellen is likely to remain firm on this subject in her testimony.
Equities are normally very exposed to changes in Fed policy. But recent trading dynamics in equities have been driven by expectations of stimulative fiscal policy, which is likely to remain a more important driver of the Dow Jones Industrial Average, S&P 500 and the NASDAQ Composite Index.

Meanwhile, the dollar is particularly exposed to any Yellen statements to Congress. Hints of imminent Fed rate hikes would be fundamentally bullish for the greenback. Recent trading patterns also reflect bullish dollar momentum: The Dollar Index has risen in a supported trend since the beginning of February, a trend that has been accompanied by support above critical moving averages, as well as bullish confirmations from relative strength and technical indicators tied to volumes that are important to currency traders.

Federal funds futures currently reflect a low probability of a March rate hike, but the greenback is telling us that the outlook for the March Fed decision is a bit more certain.
This column does not necessarily reflect the opinion of the editorial board or Bloomberg LP and its owners.
To contact the author of this story:
Jason Schenker at jasonschenker@prestigeeconomics.com
To contact the editor responsible for this story:
Robert Burgess at bburgess@bloomberg.net
Before it's here, it's on the Bloomberg Terminal.
LEARN MORE