Real Estate
Hallmark Christmases Don't Happen in the Suburbs
Holiday-themed movies made by the company that invented the greeting card imply where we'd rather live.
by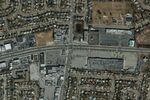 There is a first time for everything, and last week I watched my first Hallmark Channel Christmas movie. It was initially just a ploy to get my wife off of Twitter, which was filling her (as it does many of us these days) with angst. We turned on the TV in the middle of 2012's "A Bride for Christmas," starring Arielle Kebbel as an interior designer who after breaking off three wedding engagements has sworn off such entanglements, and Andrew Walker as an investment manager who bets a colleague that he can get Kebbel to say yes to a marriage proposal. In spite of that plot, it was not unappealing; Kebbel -- who has since gone on to a regular role on the HBO sports comedy "Ballers" -- deserves most of the credit for that.
The Hallmark Channel has been commissioning Christmas movies for 15 years, but since 2011 the effort has gone into overdrive -- with 19 new offerings premiering this holiday season and ratings going through the roof. (There was a nice portrait of the phenomenon in Bloomberg Businessweek last month.)
Some of the unique characteristics of Hallmark's Christmas world have been the subject of much commentary. The main female role is more often than not played by an actress you remember from some TV series years ago, led by the Familiar Four of Candace Cameron Bure ("Full House"), Lacey Chabert ("Party of Five"), Lori Loughlin (also "Full House") and Danica McKellar ("The Wonder Years"). The male leads are generally less familiar and more easily interchangeable, with dirty-blond guys with stubble the most common. And while the movies feature a remarkable number of African-American bosses and lots of other black and Asian friends and colleagues (and a few Hispanic ones), the romantic leads are invariably white. 1

I have my own obsessions, though, and what stood out most to me while I was watching "A Bride for Christmas" was what a pleasant, walkable community it was set in. Krebbel's character did get in her car from time to time, but there was also lots of sidewalk action. I guessed that it was supposed to be taking place in a compact California coastal city -- Santa Monica? San Luis Obispo? Santa Cruz?
When I fast-forwarded through the movie later I saw from a brief snippet of cable-car footage that I was meant to believe it was in San Francisco -- although, like the preponderance of Hallmark Christmas movies, it was actually filmed in and around Vancouver. By then I was deep into a somewhat ridiculous research project. The results:
No, I didn't classify all the Hallmark Channel Christmas movies. I started with this year's new releases, added the films from previous years that were on the list of 25 most popular Hallmark Channel Christmas movies published last month by Thrillist, and included any others that I (or my editor, James Greiff) happened to see all or part of. 2  Mostly I relied on the preview and "on location" videos on the Hallmark Channel website to make my determinations, although I also consulted IMDB and fast-forwarded through a few bootleg movie copies on YouTube. 3
Some of my calls -- especially on the dividing line between "Walkable suburb or mid-sized city" and "Car-dependent suburb" -- were of necessity pretty subjective. Also, big cities in Hallmark Christmas movies, especially New York, tend to be more car-friendly than they are in real life. Then again, even in Hallmark's most car-dependent suburbs, I have yet to see a big-box store or even a strip mall.

The overall picture is pretty clear: In Hallmark Christmas Land, most people live in small towns or big cities. More are in big cities than the chart reflects -- a lot of the movies that I've classified as set in small towns feature protagonists who live in Boston or New York or Los Angeles but come to the country to visit family, go on location for a movie or TV show, take possession of the local Christmas theme park or ruthlessly buy and shut down Aunt Sally's Christmas cookie factory with the intention of moving production to Buffalo (spoiler alert: the cookie factory survives).

How does this compare with where Americans actually live? This is harder to answer than you might think: the Census Bureau divides the U.S. between urban and rural areas, with 80.7 percent of the population living in the former as of the 2010 census. But that classification is a little iffy, given that "urban clusters" can have populations as low as 2,500. Also, the Census Bureau makes no attempt to separate cities from suburbs.
One could just count the biggest cities as urban and everything else that's not rural as suburbs, but that would be misleading, given that large swaths of Sun Belt cities such as Houston and Phoenix are by just about any reasonable definition suburban, while a lot of the country's most densely populated cities (Hoboken, New Jersey; Somerville, Massachusetts; West Hollywood, California) are technically suburbs.

Last year Jed Kolko, who at the time was chief economist of real estate site Trulia (he's now chief economist of jobs site Indeed), decided to just ask people. Trulia commissioned a poll of 2,008 U.S. adults, and arrived at this breakdown:
Kolko found that the survey results lined up pretty well with the actual population densities of the respondents' zip codes -- so Americans do seem to have a consistent sense of what constitutes urban and what's suburban. I'm not entirely sure that it matches my sense of the urban/suburban divide, but just for fun, here are the real and Hallmark worlds mashed together, with my two categories of Hallmark suburbs combined.
So real America is a lot more suburban -- and a lot less rural -- than Hallmark Christmas Land. I find this interesting in part because there's a long-running debate over whether this country's sprawling pattern of development since World War II reflects the "revealed preference" of Americans who really like having to get in the car to buy a quart of milk, or the perverse effects of zoning rules, school-district boundaries, taxes and transportation policies that promote sprawl and automobile-dependency.
Hallmark Christmas Land is just the creation of a bunch of TV programmers, but they clearly have a finely honed sense of the aspirations and longings of their core audience of women ages 25 through 54 (a lot of people outside that demographic watch too, of course). And one of those aspirations is apparently to ... get out of the suburbs.

If you follow that reasoning, it's also apparent that most of these Hallmark viewers aspire to settle instead in an impossibly charming little town surrounded by snow-covered countryside -- and you can't really blame zoning rules and the like for keeping that from happening. Small towns have been swimming against the economic tide for a while now.
Still, the near-absence of standard-issue American suburbia in Hallmark's imaginary world seems a little telling. It's where most of us live, but not necessarily where we want to be.
My son did some digging and found that Katrina Law, whose mom is from Taiwan, stars in "12 Gifts of Christmas" and "Snow Bride," while former Superman Dean Cain, whose biological father is Japanese-American (he was later adopted by his stepfather, Christopher Cain), stars in "Broadcasting Christmas." But the characters they play all have European last names.

The two exceptions: 2015's "A Christmas Detour" and 2007's "The Note," which were both on the Thrillist Top 25 list but were left out of my calculations because "A Christmas Detour" is about a road trip from Buffalo to New York City and "The Note" takes place in a fictional North Carolina community that I just didn't have enough information on to classify.
To contact the author of this story:
Justin Fox at justinfox@bloomberg.net
To contact the editor responsible for this story:
James Greiff at jgreiff@bloomberg.net
Before it's here, it's on the Bloomberg Terminal.
LEARN MORE