Wall Street
Valeant's Pharmacy Ties Get Even Murkier
Prosecutors think Valeant wasn't doing weird stuff. Weird stuff was being done to it.
by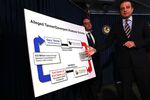 A while back I wrote about the relationship between Valeant Pharmaceuticals International, Inc., and its specialty pharmacy business, Philidor Rx Services LLC. I drew a simplified diagram of that relationship:

It turns out that the relationship was much hazier than I thought. There should have been ...  more squiggles? The squiggles should have come out of your computer screen and swerved around in three dimensions. They should have been red and pulsing. Today U.S. federal prosecutors brought criminal charges against former senior Valeant executive Gary Tanner and Philidor Chief Executive Officer Andrew Davenport, alleging that they built the Valeant/Philidor relationship, used it to enrich themselves, and concocted a whole mess of squiggles to conceal it from everyone else. 1
The gist of the complaint, signed by a Federal Bureau of Investigation agent, is this. 2  Tanner was the executive at Valeant in charge of "alternative fulfillment," a euphemistic-sounding program basically designed to get insurance companies to pay for branded Valeant drugs that they otherwise didn't want to pay for. 3  Typically the insurance companies didn't want to pay because the Valeant drugs were expensive and there were cheap generic alternatives available; if you just went to your local pharmacy with a prescription for a Valeant drug, it would fill it with a generic substitute. So "alternative fulfillment" involve giving patients and doctors incentives to insist on branded drugs, 4 and working with "specialty pharmacies" that fill prescriptions with branded drugs and are good at convincing insurers to reimburse for them. Valeant worked with at least one "established, commercial health care provider" to do that work.
But -- says the complaint -- Tanner and Davenport had a better idea. (I mean: for them.) What if they set up their own specialty pharmacy, Philidor, and then sent all of Valeant's alternative-fulfillment business to themselves? Sure, that would not be great for Valeant: Using only one specialty pharmacy would increase Valeant's "payor risk," the risk that an insurer would decide to stop reimbursing Philidor. 5  And sure, Tanner, as a Valeant employee, was not technically allowed to own a stake in an outside pharmacy that did business with Valeant. But that's easy enough to get around: Davenport, the outsider, could run Philidor and own a chunk of it, while Tanner could be the inside man, making sure that Valeant sent business to Philidor and didn't use any competitors. "As alleged, while purporting to be arms-length business counterparts, the two men were, in fact, partners in crime," says U.S. Attorney Preet Bharara.
The only remaining problem was how Tanner could share in the profits he was creating, but that wasn't too hard either. After operating independently for a while, Philidor ended up more-or-less selling itself to Valeant for about $300 million in December 2014. 6  The complaint alleges that Tanner set the deal in motion by falsely claiming that Philidor was going to start doing business with Valeant's competitors, and then helped negotiate the deal in a way that pushed up the price. 7 Of the $300 million in total cost, something like $133 million went to Philidor's shareholders. Of that, something like $40 million went to Davenport, who was a roughly 30 percent shareholder through a limited liability company called, appropriately, "End Game LLC." And of that, Davenport wired something like $10 million to Tanner, as, allegedly, a kickback. 8  
Also for some reason Tanner had an e-mail account at Philidor under the name "Brian Wilson." 
Now obviously you are not supposed to do this. 9  Everyone knows that. And Tanner and Davenport allegedly took some steps to cover it up. Tanner repeatedly certified to Valeant that he had no outside-business conflicts of interest. The alleged kickback to Tanner went through a series of shell companies, presumably to conceal its ultimate destination. There's that "Brian Wilson" e-mail account.
And yet Tanner couldn't quite help himself from showing off what he'd done:
In or about November 2013, Valeant Executive-1 and others visited Philidor's offices in Pennsylvania to learn more about Philidor's business operations. Valeant Executive-1 noticed that TANNER appeared to have an office inside Philidor, had access to Philidor's entire office facility, and acted as if he had a managerial role at Philidor by, for example, leading Valeant Executive-1 and others on a tour of Philidor's facility. This caused Valeant Executive-1 concern because TANNER was a Valeant employee, whom Valeant Executive-1 understood was providing advice to Philidor's sales team, but was not himself running the business.
The Valeant executive found it suspicious that Tanner walked around like he owned the place. (He sort of did!) So he mentioned his concerns:
As TANNER and Valeant Executive-1 were leaving Philidor, Valeant Executive-1 expressed concerns to TANNER about TANNER's level of control over Philidor and other issues. TANNER replied, in substance and in part, that TANNER knew Valeant Executive-1 would have these concerns and, for this reason, TANNER had hoped TANNER could delay Valeant Executive-1's visit to Philidor.
Wait, the executive confronted Tanner, and Tanner was like "ahh, you caught me, I knew this would happen"? That isn't good crime. Don't crime like that. 10 Don't crime like this either:
DAVENPORT then forwarded TANNER's email to TANNER at the Tanner Brian Wilson Account, stating: "They are too deep in our shit. Can picture our butch and sundance ride into the sunset (or off the cliff as in the flick) as our wiggle room/ability to operate independently gets whittled down to nothing."
I actually have never seen "Butch Cassidy and the Sundance Kid," but I have watched a lot of "Scooby-Doo," and like everyone else I find it satisfying when the bad guys confess at the end and say "I would have gotten away with it too, if it wasn't for you meddling kids." But you don't usually see that in actual federal fraud complaints.
Anyway! All of this stuff is weird, but here's the weirdest part: We knew the weird stuff already. It has been widely known for a long time that Valeant employees were intimately involved in setting up Philidor, that they sometimes worked out of Philidor's office, and even that they used fake names and e-mail addresses while working at Philidor. Philidor acknowledged the set-up -- and the fake e-mails -- last year. 11  "Brian Wilson" was nothing out of the ordinary; other Valeant/Philidor double agents included "Peter Parker" and "Jack Reacher." Roddy Boyd and Andrew Left and John Hempton first wrote about Valeant's Philidor ties more than a year ago, and noted how secretive Valeant executives were about the relationships. (Valeant's own disclosures were not especially helpful.) And earlier this year, Valeant restated its financials to reflect the fact that before it acquired Philidor -- back when Philidor was "independent" -- it wasn't really independent, and so should have been accounted for as a subsidiary of Valeant. The facts that Valeant had a weirdly close relationship with a captive specialty pharmacy, that Valeant executives were weirdly secretive about the relationship, that Valeant acquired that pharmacy in a weird transaction, that Valeant employees also worked for the pharmacy under weird code names: all of that has been public for a long time.
It's just that everyone thought it meant that Valeant was up to something. There were conflicting theories about what it was. Andrew Left alleged channel-stuffing. John Hempton alleged insurance fraud. Roddy Boyd pointed out the unacknowledged importance of Philidor's "alternative fulfillment" approach to Valeant's business. The details weren't clear, but you could easily imagine some sort of story in which Valeant was doing something shady or half-shady or at least secret, and obfuscating it with complex deals and fake e-mail addresses. 
But the Justice Department's theory is different: Valeant was having something shady done to it. Philidor wasn't an instrument of accounting fraud or insurance fraud set up by Valeant; it was an instrument of wire fraud set up by a Valeant executive to rob Valeant. 
That is a simpler theory! It makes it much easier to put someone in prison, if that is what you want to do, and the Justice Department does. It makes more sense than a lot of the competing theories: Why put Valeant employees at Philidor under fake names unless it's because you don't want their bosses at Valeant to know about it? 
It feels incomplete, though. The FBI has arrested "Brian Wilson," but "Peter Parker" and "Jack Reacher" and various other spies and superheroes are still at large. What were they doing at both Valeant and Philidor? It's one thing for Valeant management not to know that one of its executives was living a double life at one of its suppliers. But how could it miss a whole squad of Valeant employees doing that? And in fact Valeant executives began to catch on to the issue in November 2013 -- after Tanner led them on a tour of Philidor -- and started asking questions. But Tanner stuck around. A year later, Valeant paid hundreds of millions of dollars for Philidor. A year after that, journalists and short sellers started asking questions about the Philidor relationship -- and rather than slap their foreheads and shout "we've been had!," Valeant executives explained that the relationship was perfectly normal and ethical. And a year after that, Valeant turns out to be the victim of a fraud. It does seem like there might have been something in the culture at Valeant -- growth-hungry, sales-focused, acquisition-driven -- that allowed this sort of thing to flourish. Valeant may have been the victim here, but that doesn't necessarily mean it was completely innocent.
This column does not necessarily reflect the opinion of the editorial board or Bloomberg LP and its owners.
To contact the author of this story:
Matt Levine at mlevine51@bloomberg.net
To contact the editor responsible for this story:
James Greiff at jgreiff@bloomberg.net
Before it's here, it's on the Bloomberg Terminal.
LEARN MORE