European Economy
IMF's Call for a Greek Debt Holiday Goes Too Far
Greece's creditors need to be recognize the political and economic realities of its situation.
by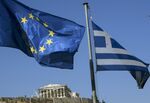 The International Monetary Fund is proposing that Greece's official creditors grant the nation an extended payment holiday on its debts, according to The Wall Street Journal. It's such a crazy idea that I hope it's just a negotiating tactic designed to drag Germany to the debating table so that debt relief can at least be discussed.
QuickTake Greece's Financial Odyssey
Under the IMF plan, Greece wouldn't repay interest or principal on its bailout loans until 2040, the newspaper said, citing officials familiar with the talks. There's no question that additional debt relief should form part of the package to help Greece restore its economic health. But the idea that German Finance Minister Wolfgang Schaeuble will accept a halt in all of Greece's repayments for almost two-and-a-half decades, or that Chancellor Angela Merkel would want to go into next year's German election having granted what amounts to a debt amnesty to the euro's most turbulent member, is absurd at best and dangerous at worst. There's a risk, too, that the IMF's relations with Greece's other creditors are becoming so strained as to imperil the entire bailout process.
Here's a chart showing Greece's debt payment schedule for the next few years, courtesy of my Bloomberg News colleague Nikos Chrysoloras:

The debt burden is such that the entire 10 billion euros ($11.3 billion) of additional aid Greece is expected to receive from euro-region finance ministers meeting on May 24 will disappear into servicing its debts in June and July (although some of it is in treasury bills which the country's domestic banks will continue to fund). Then, come July 2017, another 7 billion euros is needed.
The IMF is correct when it says rescheduling is essential if the country is to be on a viable path to recovery. But suspending all debt payments until 2040 is never going to be acceptable to Greece's lenders, especially Germany.
The IMF also insists that a system of automatic triggers be put in place that would impose additional austerity measures worth about 3.5 billion euros if Greece fails to meet the objectives outlined in its bailout package. But there is little sense, either political or economic, to the idea that a nation struggling to grow its economy by enough to hit its targets would be punished by pre-programmed cuts if it falls short.
Greece's growth outlook remains lackluster at best. Tourism contributes more than 18.5 percent to the country's gross domestic product, according to the World Travel & Tourism Council. But last week Greek Tourism Confederation President Andreas Andreadis warned that weakness in the first four months of this year threaten this year's target for 15 billion euros of revenue, and may mean 2016 is even worse than last year.
The IMF proposal to let Greece completely off the hook comes at a tricky time. The June 23 U.K. referendum on whether to quit the European Union has boosted other anti-European political forces in the bloc. The EU economy is still fragile, with 13 percent of economists still seeing a risk of a euro-zone recession in the coming year, according to a Bloomberg survey earlier this month. Forgiveness of the kind the IMF counsels may harden sentiment against the EU in core members, further weakening ties.
More realism is needed from all the participants at next week's meetings. Germany needs to accept that limited debt relief makes sense, not least so that Greek Prime Minister Alexis Tsipras has something to sell at home, where his political position is shaky at best. The IMF needs to be less doctrinaire in its economic demands, and recognize that the primary surplus targets it advocates are too onerous. And Greece needs to improve on its limited progress in dealing with the non-performing loans that hobble its banking sector, and in accelerating the sale of state-owned assets to raise much-needed cash. Otherwise, the euro zone faces the prospect of a repeat of last year's existential crisis that threatens the integrity of the common-currency project. 
To contact the author of this story:
Mark Gilbert at magilbert@bloomberg.net
To contact the editor responsible for this story:
Therese Raphael at traphael4@bloomberg.net
Before it's here, it's on the Bloomberg Terminal.
LEARN MORE