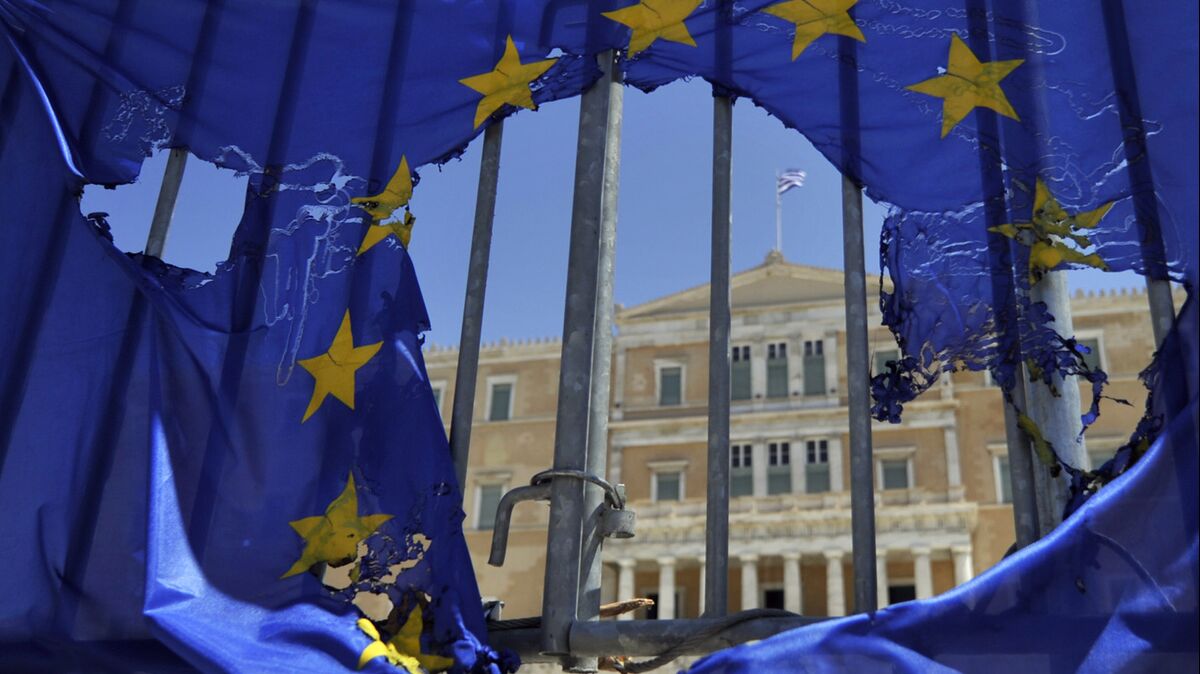 Greece's Financial Odyssey
Pushing Back Against Austerity
By
|
Updated May 25, 2016 10:47 AM UTC
Greece fought austerity and austerity won. When Alexis Tsipras, the brash young leader of a left-wing party, became prime minister in January 2015, he vowed to undo the economic medicine that shrank the country's economy by a quarter, saw more than a million jobs disappear and drove thousands of Greeks below the poverty line. His European counterparts, who had lent Greece more than 200 billion euros ($223 billion) to prevent its default, had a simple response: no. Six months later Greece's banks were shuttered, its stock market was closed, the economy was falling back into recession and the country stood on the brink of expulsion from the euro zone. Tsipras blinked, accepting a new bailout on terms harsher than those he had rebelled against. An uneasy peace now reigns between Athens and Brussels, and Greece's place in the euro appears assured for now. Less clear is what happens to that gigantic debt —  and to a common currency whose divisions are now wider than ever.
The Situation
With Tsipras forcing through unpopular austerity measures tied to Greece's third European bailout, attention is turning toward steps needed to make the country's debt sustainable. Here, the International Monetary Fund, which insists that Greece won't be able to support the large budget surpluses that the other euro-area governments are demanding, agreed to delay a long-term solution in order to keep the bailout funds flowing. For his part, Tsipras has increased taxes and pushed through changes dictated by the creditors in return for 86 billion euros ($98 billion) in new money, ranging from easing restrictions on home foreclosures to pension reforms to removing incentives for early retirement. There are still sporadic anti-government protests and in November, Greek unions staged their first general strike since Tsipras came to power. 
The Background
The victory for Tsipras's Syriza party, an acronym that means the Coalition of the Radical Left, ended a 40-year era in which the conservative New Democracy party and the socialist Pasok party traded power. The parties' competition for votes led to a spending spree financed by international debt while tax evasion flourished. In 2009, Pasok took power and revealed a deficit four times what euro rules allowed. Greece received more than 200 billion euros in EU and IMF funds to avoid default. It also forced private creditors to write down 100 billion euros of bonds. In return, the country's lenders forced deep spending cuts. Youth unemployment peaked at more than 60 percent and at the end of 2015 the overall jobless rate stood at 24.2 percent. In June 2015, Tsipras held a snap referendum in which voters resoundingly rejected the creditors' latest offer. German Chancellor Angela Merkel, angered by the move, led other euro zone governments in pushing back. Facing the likelihood that rejecting the deal would lead the European Central Bank to withdraw the emergency aid keeping Greek banks afloat, Tsipras gave in.
The Argument
The bailout agreement and the more pressing European Union refugee crisis lowered the temperature in the debate over Greece's finances. But to richer northern countries, Germany in particular, Greece remains a spendthrift that won't reform without continued pressure. To many Greeks, their travails have shown the limits – or even folly — of the austerity imposed on it. Tsipras said he capitulated last year because leaving the euro would have been too destructive. Euro membership is intended to be irrevocable, and any departure would be a blow to the long process of European integration. But when the showdown came to a head, Merkel got her way by being willing to let Greece go, arguing that it was more important that the euro zone enforce its rules. 
The Reference Shelf
First published Dec. 24, 2014
To contact the writer of this QuickTake:
Marcus Bensasson in Athens at mbensasson@bloomberg.net
To contact the editor responsible for this QuickTake:
John O'Neil at joneil18@bloomberg.net