Cars
Clinton and Trump Spin Their Wheels on Auto Jobs
Fulminating about traitorous companies, candidates miss the real targets.
by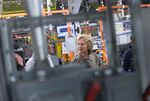 Presidential front-runners Hillary Clinton and Donald Trump both seem to sense that there are political points to be scored in fulminating about the auto industry. But both have swung wide of the mark in trying to capitalize on it.
For example, ever since the auto supplier Johnson Controls announced it would merge with Tyco in a tax-reducing "inversion," Clinton has pounded the firm with a thesaurus' worth of pejoratives, claiming it is turning its back on America after receiving a government bailout. This week, the company angrily denied receiving bailout money in a Detroit Free Press commentary, prompting Clinton's camp to clarify that it had merely lobbied for the bailout, quite a different thing than actually receiving funds. And while she lost the Michigan primary to Bernie Sanders, whom she had accused of insufficiently supporting the Detroit bailout, she has since ramped up her effort tap into populist sentiment around manufacturing jobs and the auto industry. 
Trump, meanwhile, has repeatedly cast Ford as a free-trade villain, pointing to the automaker's decision to increase production in Mexico as the kind of behavior he'd put an end to. But like Clinton, Trump overstepped, falsely claiming that he had pressured Ford to move a Mexican plant to Ohio and earning a rebuke from the firm's chief executive. (He won in Michigan anyway.)
Part of the problem here is that the legacy of the bailout is very mixed in ways that are hard to characterize on the stump or in a debate. But it's also true that neither Clinton nor Trump has trained attacks on the firms that best exemplify the cronyism, disloyalty and failure that make the auto industry a worthy target of populist anger. These are, of course, the two companies that survived thanks to auto bailout money: GM and Chrysler (now merged with Fiat and known as FCA). Though both are turning hefty profits thanks to booming truck and SUV sales, they have clearly failed to live up to the standards that both candidates are now championing.
General Motors, which received a $50 billion bailout, has received a net federal tax advantage of $52 million over the last three years in spite of billion-dollar profits, thanks to a controversial government decision allowing it to carry tens of billions of dollars in operating-loss credits through bankruptcy. GM is also leading the way on importing vehicles from China, and has focused its global export and R&D strategies around that huge potential market in the years since taxpayers bailed it out. Just like Ford, GM is doubling its Mexican production capacity, spending $5 billion on new assembly jobs south of the border.
Meanwhile, FCA isn't even based in the U.S., having fled to a U.K. tax domicile after receiving more than $10 billion in bailout funds. Putting Fiat's Italian plants in front of the line for new production, FCA anticipates that its North American production will remain flat through 2018 while imports from outside North America will expand to more than 10 times 2013 levels
This is at the heart of populist anger over the auto industry: Even if the bailout was necessary as an emergency measure, it's failed to change the behavior of the firms who benefited from it or to deliver any reversal in the fortune for U.S. workers. Fiat-Chrysler survived to become a foreign firm by every possible metric, and GM became a tax-dodging Trojan horse for Chinese cars. And yet no American politician -- Democrat or Republican, establishment or renegade -- seems able to even identify these real culprits.
Why not? Perhaps Clinton is not eager to tear down one of the Barack Obama administration's main economic talking points. Doing so could also expose the leaders to charges of hypocrisy. GM is a major donor to the Clinton Global Initiative, and  Trump has long had affection for GM's Cadillac brand: He has prominently attended its vehicle premiers and once had a deal to create Trump-branded limousines.
Whatever the reasons, the fact that two such different candidates both prefer to falsely attack bystanders like Johnson Controls rather than get tough on bailed-out firms behaving badly is not an encouraging sign. With the auto industry once again reaching the top of its business cycle and primed for another collapse, the next president needs to directly confront the bailout's tough lessons or risk making decisions that cause even more populist anger.
This column does not necessarily reflect the opinion of the editorial board or Bloomberg LP and its owners.