Clinton Takes On Big Companies, Woos Anti-Establishment Vote
She has attacked Valeant, JCI and Nabisco in ads and speeches

Trying to counter criticism that she's the corporate candidate
Bernie Sanders and Republicans have attacked Hillary Clinton for her ties to big business and Wall Street. Now she's attacking companies as she tries to close in on the Democratic presidential nomination.
In some respects she's picking easy targets -- and some companies are pushing back. At least one, auto-parts maker Johnson Controls Inc., said Clinton's advertisements and campaign rhetoric are wrong. Others are countering accusations that paint them as bad corporate citizens.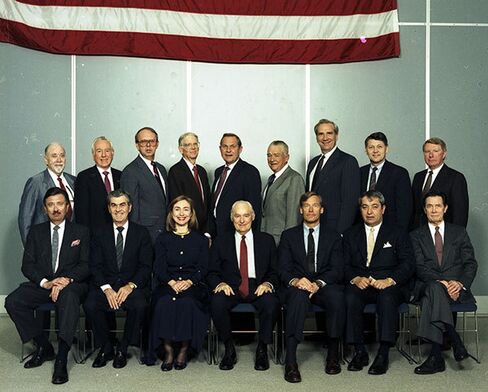 Her commercial blasting JCI cites its planned merger with Ireland-based Tyco International Plc in a deal that cuts its U.S. taxes. Another television ad that started last week goes after Valeant Pharmaceuticals International Inc. for charging almost $15,000 for a migraine treatment. And Clinton took Nabisco to task in a speech last week for dismissing American workers and expanding in Mexico after the maker of Oreo cookies received Illinois tax incentives.
"She's clearly got to stake out her position," said Joe Trippi, a Democratic strategist who isn't working for either candidate. "She doesn't want the caricature that Sanders and the Republicans are painting; she can go back later in the campaign and point to companies that she has taken on."
Anti-Establishment Voters
Clinton is trying to woo anti-establishment supporters of Sanders, her Democratic rival, who has criticized her for paid speeches she's given to Goldman Sachs Group Inc. and other Wall Street firms, which he's threatened to break up. He's also used Wal-Mart Stores Inc. -- where she served as a board member from 1986 to 1992 -- as an example of inequality in America.
Clinton's strategy also pivots her campaign toward the presidential election, where she may face Donald Trump and the popular support he has garnered with his vows to pursue companies that move jobs or tax dollars offshore.
"She's going to hold bad actors to account for what they have done," including if she becomes president, Clinton senior policy adviser Jake Sullivan said. "But if there are companies that are prepared to invest in their workers and their communities, she's going to stand behind them."
She's been especially hard on JCI, which agreed this year to the tie-up with Tyco, a diversified holding company. The deal allows JCI to shift its legal address to Tyco's tax-friendly Cork, Ireland, headquarters.
'An Outrage'
"When the auto industry was going under, car-parts companies like them begged taxpayers for a bailout and they got one," Clinton says in an ad while standing in front of JCI's current headquarters in Milwaukee. "But now that Johnson is back on its feet, they're gaming the system and moving profits to Ireland so they can avoid paying taxes here at home. It's an outrage."
The ad has run widely in Michigan ahead of Tuesday's open Democratic primary there.
There's just one problem with Clinton's claim: JCI never received a bailout. The company lost $338 million in 2009, when General Motors Corp. and Chrysler LLC went bankrupt, but turned a $1.5 billion profit in 2010. Former Chief Operating Officer Keith Wandell testified before Congress in 2008 about the need to support the auto industry, but he never asked for money for JCI, and the company didn't take any, spokesman Fraser Engerman said.
When asked about this, a Clinton spokesman said JCI supported a bailout for automakers, which the government provided, and now wants to move its tax domicile overseas.
'Tax Gimmick'
"Johnson Controls asked for the government bailout of their industry to happen and benefited from the bailout when it did," said Jesse Ferguson, Clinton's deputy national press secretary. "Now, they are using a tax gimmick to take their profits overseas to avoid paying taxes. Hillary Clinton thinks that's wrong and she'd put a stop to it."
She has run ads accusing Valeant of gouging consumers by jacking up the price of a migraine medication. Clips from a January town-hall meeting show Clinton talking about an Iowa retiree named Ellen Mayberry who said her drug costs almost $15,000 for 10 doses, up from $180 in the 1980s.
Valeant countered with a statement on its website saying Mayberry told the company her insurance covers the drug, so it's not a big expense for her. The drug maker also said it has less than a 1 percent market share for this type of medication, with rival Perrigo Co. selling a generic treatment that is much cheaper.
Criticizing Pfizer
Clinton has criticized Pfizer Inc. on several occasions for its plans to use a merger with Ireland-based Allergan Plc to move its tax address abroad. That would leave "U.S. taxpayers holding the bag," she said in a statement when the two pharmaceutical companies announced the deal in November.
Company spokeswoman Joan Campion said "Pfizer has deep roots in and remains strongly committed to the U.S.; and after the transaction, we will continue to be subject to all U.S. tax laws. By combining with Allergan, Pfizer can invest in America and compete globally."
Clinton also has taken on Mondelez International Inc. subsidiary Nabisco in speeches for moving some Oreo cookie production to Mexico from Illinois after the company got $90 million in tax incentives from the state.
No Oreos
Trump repeatedly has bashed companies that move their headquarters for tax purposes or shift operations outside the U.S. He's said he will no longer eat Oreos and threatened to put a 35 percent tax on all vehicles Ford Motor Co. imports from Mexico after the automaker announced plans to spend $2.5 billion on its operations there.
Clinton must target specific companies to show she isn't the corporate candidate but do so without biting those who have helped her, said Robert Boatright, an associate professor of political science at Clark University in Worcester, Massachusetts.
"She can't just broadly go after big business," Boatright said. "Mentioning a specific corporate actor is about the best she can do with the hand she has been given."
Before it's here, it's on the Bloomberg Terminal.
LEARN MORE