What to Watch For: Uncensored Conservatism
Debate outbursts can define a political movement.
by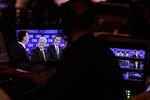 The Fox News debate Thursday night in Cleveland, billed as the first of at least nine Republican presidential debates, is only the latest stop on barnstorming tours that many of the candidates have been on since the beginning of the year. They have had ample time to hone their acts and sharpen their words, often before live audiences.