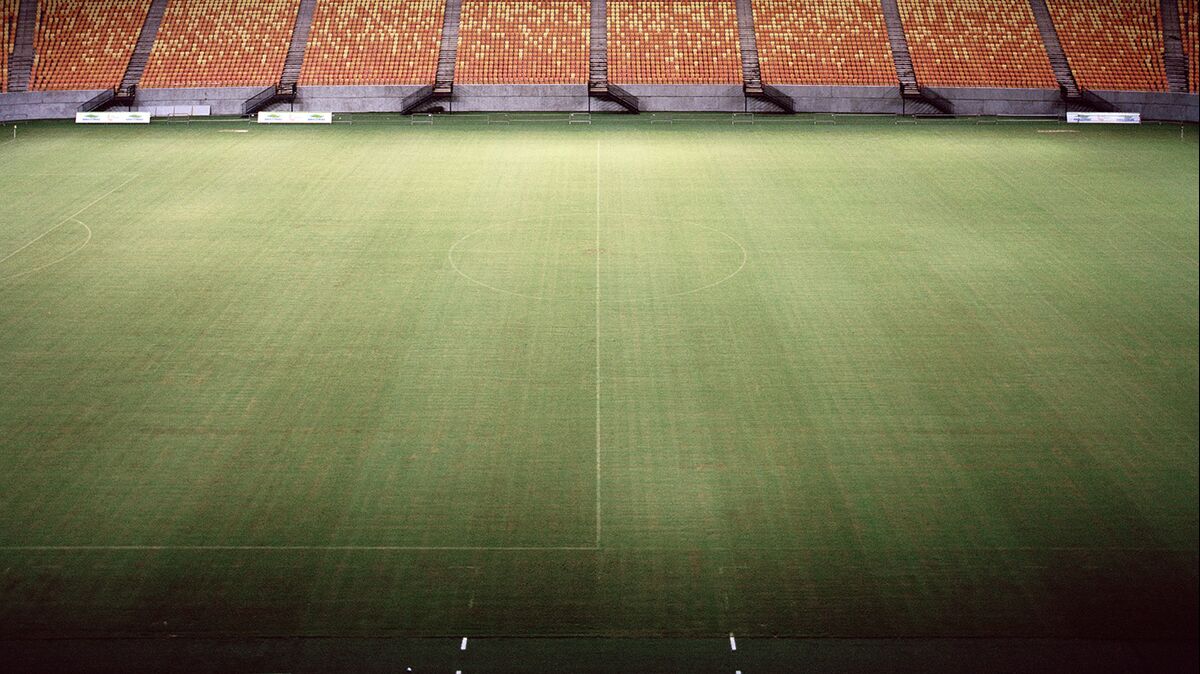 The World Cup
Competition and Corruption
By
|
Updated Feb 8, 2017 10:07 AM UTC
No sporting event is more popular than the World Cup. Almost half of humanity — more than 3.2 billion people – tuned in to the month-long competition in Brazil in 2014. But long before nations compete on the field, they vie for the prestige of hosting the tournament that generates billions of dollars in television and sponsorship rights for FIFA, soccer's ruling body. That competition can spell trouble. Graft scandals are dogging previous tournaments as well as future events in Russia and especially Qatar, raising the question: Is corruption indelibly staining the beautiful game?
The Situation
Gianni Infantino was elected FIFA president in February 2016 on a pledge to restore the ruling body's reputation. That goal faced immediate hurdles as the Panama Papers prompted the resignation of a member of FIFA's ethics committee and a public statement from Infantino, the former head of European soccer, defending his integrity. To make matters worse, FIFA's head of audit and compliance quit in protest over new powers for top officials that he said would imperil efforts to eliminate corruption. And FIFA's auditing company resigned because it doubted the ruling body was serious about reform. The damning headlines have not abated: FIFA's finance director was fired over bonus payments; ethics prosecutors recommended a two-year ban for a FIFA executive over the award of the 2006 World Cup to Germany; and FIFA said multimillion-dollar payments to long-serving former president Sepp Blatter and two other top executives probably broke Swiss law. Blatter was banned in 2015 over a payment to Michel Platini, who had been the favorite to succeed him as FIFA president. The corruption scandal came to a head earlier that year when dozens of senior soccer officials were arrested in Swiss police raids on a luxury Zurich hotel, and the U.S. Justice Department charged 41 people and companies in an investigation into what it called "rampant corruption" in the sport. The U.S. allegations involve hundreds of millions of dollars in bribes and have led to at least 15 convictions including five former top FIFA executives. FIFA never released in full its two-year investigation into how Russia and Qatar won their bids, and the man who led the probe resigned in protest. There were calls to strip Qatar of the 2022 event after claims that it paid bribes, but the tiny desert emirate was cleared by FIFA's investigation and the tournament moved to the winter to avoid the searing heat of summer. In January, FIFA voted to expand the World Cup to 48 teams from 32 starting in 2026 in a move it expects will boost revenue by as much as 25 percent. Events off the field have yet to play out: An internal FIFA legal investigation is set to reveal wrongdoing that extends beyond the U.S. allegations.
The Background
Disputes over where to hold the event have afflicted the World Cup since it began in 1930. Then, the selection of Uruguay resulted in only four European teams taking part. Uruguay and Argentina boycotted the 1938 competition because Europe was hosting it for the second straight time. FIFA experimented with a rotation system; now it will take bids only from those continents that haven't staged either of the last two tournaments. Recent history shows there is little — if any — financial benefit to holding the World Cup. South Africa recouped just a 10th of its outlay on stadiums and infrastructure for the 2010 event, the first in Africa. World Cup hosts are chosen in a secret vote by the two dozen members of FIFA's executive committee (which has been rebranded as the FIFA Council). An American former committee member has alleged that he and others accepted bribes in connection with the selection of South Africa. While Canada, Colombia, Mexico and the U.S. are considering hosting the 2026 tournament, the U.S. doesn't plan to bid unless there's more transparency in the voting.
The Argument
Spreading the World Cup around the globe drives the sport's development. Under Blatter, FIFA said it pushed the tournament into "new lands" to give countries a chance to showcase their culture. Critics of the selection process highlight the money-losing proposition for developing nations — such as Brazil — that might spend the funds in other ways. Others say the selection process is made a farce by corruption fed by billions of dollars reaped from television and sponsorship rights. While FIFA says it wants to root out the problems and has made changes to its corporate governance, critics say the moves haven't gone far enough. They also question whether appropriate reforms can be carried out by officials who have been part of the system, like Infantino. Among those who pushed for Blatter's removal were some of FIFA's corporate sponsors, including Coca-Cola, Visa and McDonald's. World Cup sponsors including Sony and Adidas — which together pay $1.6 billion for each World Cup — pressed FIFA to investigate the allegations about Qatar's bid. Emirates, the Dubai-based airline, and other companies have dropped their support.
The Reference Shelf
First published June 10, 2014
To contact the writers of this QuickTake:
Eben Novy-Williams in New York at enovywilliam@bloomberg.net
Tariq Panja in London at tpanja@bloomberg.net
To contact the editor responsible for this QuickTake:
Grant Clark at gclark@bloomberg.net