FIFA Bans Blatter and Platini From Soccer for Eight Years
by and
Platini was vying to replace Sepp Blatter as FIFA president

Blatter fined 50,000 Swiss francs, Platini fined 80,000 francs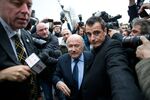 FIFA banned President Joseph "Sepp" Blatter and European soccer boss Michel Platini for eight years over an unauthorized 2 million-Swiss franc ($2 million) payment, ending Platini's chances of taking over the sport's governing body.
Blatter was unable to demonstrate any "legal basis" for the payment in 2011, while Platini's assertion of an oral agreement was rejected, the adjudicatory chamber of FIFA's Ethics Committee said Monday in a statement. Blatter was fined 50,000 francs and Platini 80,000 francs and the bans take effect immediately.
The actions of neither Blatter nor Platini showed a "commitment to an ethical attitude, failing to respect all applicable laws and regulations," the chamber said in its ruling. Both men demonstrated an "abusive execution" of their respective roles, it said.

Blatter, who oversaw FIFA for 17 years, and UEFA President Platini were suspended from all soccer activities Oct. 8 after Swiss prosecutors opened an investigation into the payment. The move effectively ended Blatter's presidency and delivered a blow to Platini's chances in February's elections for FIFA's top job. Platini was handed another setback Dec. 11 when the Court of Arbitration for Sport rejected the appeal of his 90-day suspension.
Blatter and Platini have denied any wrongdoing, saying Blatter was fulfilling an oral contract between the two for services the Frenchman provided to FIFA between 1998 and 2002. The final payment on the contract was made in 2011.
"We thought we had convinced the panel about the whole situation," Blatter told reporters in Zurich on Monday, saying that only FIFA's executive committee can remove its president. "On hearing the news, I felt sad but now I feel combative."
Blatter plans to appeal the decision to the Lausanne, Switzerland-based Court of Arbitration for Sport, his spokesman Klaus Stoehlker said. Blatter also pledged to find a way to attend the soccer body's Feb. 26 congress.
Written Proof
Platini said he plans to appeal the decision at both the Court of Arbitration for Sport and through civil courts. "On the playing field as well as carrying out my mandates, my behavior has always been beyond reproach," Platini said in a statement.
The French weekly Journal Du Dimanche reported in a Dec. 6 issue that it had documents that showed FIFA and UEFA officials knew about the contract. Thibaud D'Ales, Platini's lawyer, said that supported Platini's contention that he had done nothing wrong or had been trying to hide the agreement. The newspaper report "is the written proof of the oral contract between Michel Platini and FIFA, as well as the amount and it also confirms that the contract was no secret because it was known about by executives at UEFA and FIFA," D'Ales said at the time.
Blatter said at the press conference in Zurich that FIFA's control committee, the congress, the finance committee and the executive committee all knew about the payment to Platini.
Zurich Arrests
FIFA's problems began with the arrest of seven soccer officials in Zurich in May, part of the U.S. Department of Justice's indictment of 14 people for bribery, racketeering and money laundering. Two FIFA vice presidents were arrested in Zurich on Dec. 3 as U.S. and Swiss prosecutors widened their investigations into corruption in the sport and more specifically, allegations of bribery in the selection of Russia and Qatar to host the 2018 and 2022 World Cups.
At Monday's press conference, Blatter said the May 27 raids by U.S. and Swiss authorities were an "attack" on FIFA, in which the soccer body was likened to a Mafia crime organization. "I had to protect it," said Blatter, adding that he's recovered from medical treatment last month and is drawing strength from his supporters at FIFA.
"I will fight and fight to the end," Blatter said. "I am a man of principles. These principles are: never take money that is not earned. Secondly, pay your debts. I'll be back."
New Chapter
FIFA will hold elections in Zurich on Feb. 26 to choose its next president. Issa Hayatou, who became acting president of FIFA with Blatter's suspension, said in a Dec. 18 open letter that the election is the chance "to start a new chapter."
The remaining candidates for the presidency are UEFA Secretary General Gianni Infantino, Prince Ali bin al-Hussein, the Jordanian prince who was beaten by Blatter in May's election, Jerome Champagne, a former French diplomat who had worked as an aide to Blatter, and South African anti-apartheid campaigner turned mining mogul Tokyo Sexwale.
FIFA declined to comment on the decision of the Ethics Committee.
FIFA announced reforms on Dec. 3, including term limits for senior officials, splitting the executive into two separate committees, more roles for women and independent oversight for key financial decisions.
Before it's here, it's on the Bloomberg Terminal.
LEARN MORE