Poll: Hillary Clinton Favorability Dips After E-Mail Flap
A majority of the survey's respondents say she hasn't done enough to explain her use of private e-mail.
by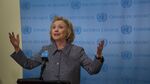 Negative perceptions of Hillary Clinton have risen in the wake of news reports detailing her exclusive use of a personal e-mail account, rather than a government address, while she was secretary of state, a CNN poll released Monday found.
Clinton, a possible 2016 Democratic presidential contender, was viewed favorably by 53 percent of those surveyed March 13-15 and unfavorably by 44 percent. That compares to a 59 percent favorable versus 38 percent unfavorable response rate from November 21-23.
Fifty-seven percent of respondents said Clinton is someone they'd be proud to have as president. At the same time, half found her to be "honest and trustworthy," compared to 56 percent who said the same when they were asked that question a year ago.
The CNN poll also probed respondents' views on the e-mail story itself. The findings were mixed, with majorities saying it was a problem on some level and that she needed to explain herself more—but also that Clinton has revealed the "right amount" about her e-mails.     
Just over half of respondents said her use of a personal address and home server was very or somewhat of a serious problem, compared to 48 percent who had it was not too serious or not a serious problem at all. More than half of the survey-takers also said Clinton had not done enough to explain why she used a private e-mail system.
Fifty-one percent said Clinton had revealed the right amount about the e-mails, while 41 percent said she'd revealed too little. And 52 percent agreed with the statement that her handling of e-mail while serving as secretary of state is not relevant to her character or her ability to serve as president.
The telephone survey, conducted by ORC International, was of 1,009 adult Americans and has a margin of error of plus or minus 3 percentage points. Drilling down in the poll results, just 31 percent of Democratic voters viewed the e-mail issue as a problem, while 51 percent of Independents did and 75 percent of Republicans. (The margins of error for those groups were plus or minus 6 percentage points for Democrats, 4.5 for Independents and 6.5 percent for Republicans.)
Before it's here, it's on the Bloomberg Terminal.
LEARN MORE