E-Mail Not Mentioned as Hillary Clinton Named to Irish America Hall of Fame
The former secretary of state accepts an award at a New York luncheon.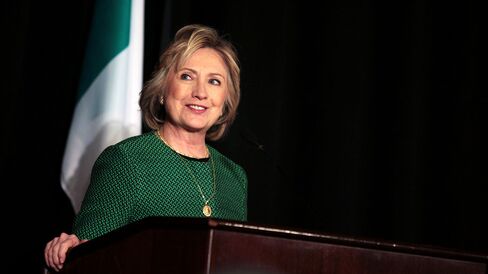 Hillary Clinton made her first public appearance Monday since facing the press to explain her reliance on a personal e-mail address and server, but that topic was certainly not on the agenda as the former secretary of state accepted a place in the Irish America Hall of Fame.
"We all get so busy whether we're in business or government … it's easy to forget why we do what we do and at the end of the day it is to provide better opportunities, prosperity, peace for those closest to us—particularly the next generation—and everyone else's children and grandchildren," Clinton said as she accepted the award at a New York luncheon, sharing a table with Sinn Fein president Gerry Adams.
"When I look at [granddaughter] Charlotte, who will be six months at the end of this month, I am reminded that she will have many, many opportunities," Clinton said. "Her family will make sure of that. We will do whatever we can to give her the best education, to give her the best understanding of values and how to treat others.
"But I would like that for every child. Every child, not just in the United States, not just in Ireland, but every child, everywhere."
Clinton was honored Monday for her role in the Northern Ireland peace process during her years as first lady, which included outreach to women at all levels of the political process. Her speech came at the start of the third week of scrutiny of her use of a personal e-mail address while at the State Department, which, while losing some momentum in the media has not been overtaken by another storyline for Clinton or, in some ways, for the Republicans running for president.
But after answering questions by reporters at a hastily-arranged press conference at the United Nations last week, Clinton has gone silent on the subject of her e-mails. On Monday, for instance, she went on the offensive against Congressional Republicans, firing off tweets critical of the delay in confirming Obama nominee Loretta Lynch as the next attorney general.
https://twitter.com/HillaryClinton/status/577559904774459392
https://twitter.com/HillaryClinton/status/577560394987921408
There's been no one overarching means for changing the conversation from Clinton and her allies, and her schedule for the next two weeks offers no narrative other than a continuation of her outreach to women, which has been drowned out this month by questions about her e-mail and about the Clinton Foundation's donors. Her presidential campaign is beginning to form, with names of new hires leaking out and a consensus among Democrats that its headquarters will be in downtown Brooklyn.
While Clinton turned her attention to foreign policy, she offered refrains about the role of women that are sure to be central to her presidential bid. Research in recent years has shown that "where women are involved and therefore where the work of peace permeates down to the kitchen table ... there's a much better chance that the agreement will hold," she said.
She also spoke more broadly, suggesting that the dysfunction of governmnet is still better than the alternative. "As dysfunctional as government can be anywhere in the world, it's better to have people arguing about that than walking away and thinking that conflict may be the only answer," she said.
Recalling her husband's decision to grant a visa to Adams, Clinton said: "one often has to take risks for peace."
Clinton's role in the Northern Ireland peace process has been challenged by some on the right, who assert it wasn't as bold or direct as she's suggested. Her allies say that while she was not involved in peace talks, she had a substantial role.
George Mitchell, Clinton administration's top Northern Ireland negotiator, told the Washington Post in 2008 that Hillary Clinton was "not involved directly" in the talks but was "very much involved in encouraging the emergence of women in the political process in Northern Ireland, which was a significant factor in ultimately getting an agreement."
Clinton's speech Monday was one of just a few public appearances on her schedule for the rest of the month, and nothing's been announced for April, when she's expected to launch her campaign.
She's headed to Atlantic City on Thursday for what will likely be her final paid appearance before launching her campaign, a speech for the American Camp Association of New York and New Jersey.
Thus far, she has three public appearances set for next week. On Monday, she'll speak on urban issues at a Washington event cosponsored by the Center for American Progress and AFSCME, as well as at a political journalism awards ceremony. On Wednesday, she'll an accept an award by video at the Society for Women's Health Research gala in Washington.
Before it's here, it's on the Bloomberg Terminal.
LEARN MORE