Did You Catch the Hidden Jay-Z Reference in Obama's Selma Speech?
One of the most quoted lines from the president's speech has a familiar rhetorical turn.
by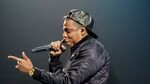 President Barack Obama may have slipped a little nod to rapper Jay-Z into his much-praised speech in Selma, Ala., on Saturday. 
It came at the very end of the address, when the president employed a turn of phrase rap fans might have found familiar. "We honor those who walked so we could run," Obama said. "We must run so our children soar." 
Jay-Z's remix of the song "My President" includes the the lines, "Rosa Parks sat so Martin Luther could walk / Martin Luther walked so Barack Obama could run / Barack Obama ran so all the children could fly."  
Originally conceived by Young Jeezy and featuring Nas, both versions of "My President" discuss Obama's election. Given that the song is about him, as well as the civil rights movement, it seems unlikely that the phrase would find its way into the president's speech purely by coincidence. 
Before it's here, it's on the Bloomberg Terminal.
LEARN MORE