Obama's Selma Address Lauded as One of His Best
The president's speech at the Edmund Pettus Bridge draws rave reviews.
by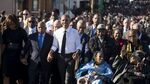 President Barack Obama's speech in Selma, Ala., Saturday has been widely heralded as one of his best.
Commemorating the 50th anniversary of  "Bloody Sunday," when civil rights protesters were beaten by Alabama State Troopers, the president spoke at the spot where the violence broke out, the Edmund Pettus Bridge. 
"We know the march is not yet over; we know the race is not yet won. We know reaching that blessed destination where we are judged by the content of our character requires admitting as much," Obama said.
The president's rhetoric scored high marks among journalists. 
Washington Post columnist EJ Dionne wrote on Twitter that it was "one of the best speeches" the president has given in a long time, and CNN's Jeff Zeleny also tweeted that it was one of Obama's finest moments of oratory. The Atlantic's James Fallows wrote that the speech "will move to the front of the public statements by which Obama hopes to be remembered in the long run."
Heidi Moore, until recently finance editor at The Guardian, went so far as to call the speech "perfect," tweeting that "will soon be in speechwriting anthologies" and The Nation's John Nichols called it "arguably the best of his presidency."
Democrats on Twitter also lavished the address with praise. 
Democratic strategist David Axelrod tweeted that the speech was "one of [Obama's] very best." That's high praise, given that Axelrod himself had a hand in Obama's campaign speeches and those during the first part of his presidency. Axelrod gave the president feedback on his famous speech on race, "A More Perfect Union," in March of 2008, e-mailing, "This is why you should be president," after reading the draft. 
Senator Claire McCaskill praised the president and took a swipe at Former New York mayor Rudy Giuliani. The Missouri Democrat tweeted, "I dare anyone to listen to the speech the President gave today and then say he doesn't love America." The jab referenced Giuliani's claim that the president does not love his country, which he made at a dinner in New York in February. 
Senator Charles Schumer, a New York Democrat, tweeted that "President Obama was powerful and moving at Selma today." 
Accompanying the president were a host of politicians from both parties, including about 100 lawmakers, the New York Times reported. More than 20 of them were Republicans, including House Majority Leader Kevin McCarthy. 
Plenty of Republicans on Twitter commemorated the day, but there was little mention of the president's address. 
Correction: Earlier versions of this article misstated Heidi Moore's current job title. 
Before it's here, it's on the Bloomberg Terminal.
LEARN MORE