Stroll With Kerry Lands Iran's Top Diplomat in Trouble
Ladane Nasseri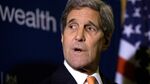 A walk down the streets of Geneva with U.S. Secretary of State John Kerry was all it took to get Iran's Foreign Minister Mohammad Javad Zarif in trouble back at home.
Zarif met Kerry in the Swiss city on Jan. 14 as the two sides seek to meet a March 1 deadline to agree on an outline of a permanent nuclear accord between Iran and world powers. They held six hours of talks over two sessions and took part of their exchange outdoors strolling on Geneva's sidewalks.
Photographs of the two, shared on social media, prompted those who oppose Iran's policy of rapprochement to accuse Zarif of becoming too friendly with the nation the Islamic Republic blames for many of the Middle East's ills. Hossein Shariatmadari, the editor-in-chief of the hardline newspaper Kayhan, described the walk as "beyond inappropriate."
Iran's "official and rational view is to see the U.S. as a blood spilling enemy and a looter," Shariatmadari, who is appointed by Iran's Supreme Leader Ayatollah Ali Khamenei, wrote. "By walking alongside John Kerry, and outside the site of negotiations, Mr. Zarif is showing that he disagrees with the Islamic Republic's official view."
The attack fits into the strategy followed by establishment hardliners seeking to keep the government of President Hassan Rouhani on its toes, said Mahjoob Zweiri, a professor of Middle Eastern politics at Qatar University in Doha, who focuses on Iran.
'Watch Your Steps'
"Criticizing and warning is part of their designed role," Zweiri said in an interview from Doha. "They want to remind the government our 'eyes are on you, watch your steps.'"
For Rouhani critics in parliament, the Republican Guards and other conservative institutions, the "main concern is that a breakthrough on the nuclear issue would lead to a normalization of relations with the U.S.," he says. "That would change a lot of the basic political games inside Iran and they have no interest in that."
Rouhani was elected in 2013 on pledges to ease economic sanctions and end the country's isolation, which had deepened under his predecessor Mahmoud Ahmadinejad. Rouhani, a former top nuclear negotiator himself, has also been attacked for gestures that included a phone call with U.S. President Barack Obama in September, 2013.
Asked by reporters once back in Tehran about the circumstances leading to the walk, Zarif said it had been a substitute for a break given the limited time available.
Paris Meeting
"This was solely for negotiations to move away from the rather tense turn they had taken and for fresh air to bring a change in the climate of the talks," Zarif said Jan. 19, according to the Tehran-based Hamshahri newspaper.
Zarif was also criticized for meeting Kerry on Jan. 16 in Paris. The top U.S. diplomat was in the French capital in a show of support after the deadly attack on the satirical Charlie Hebdo magazine by jihadist gunmen. Iran condemned the attack, while calling the magazine's move to print more cartoons of the Prophet Muhammad "provocative."
"It seems Mr. Zarif doesn't know what a great nation and people he is representing," the commander of Iran's Basij militia, Mohammad Reza Naghdi, was as cited as saying in a report published yesterday by Fars news agency. Zarif should "apologize to the people for his undesirable actions."
Before it's here, it's on the Bloomberg Terminal.
LEARN MORE