Why Marco Rubio Loves the Cuba Debate Even Though He Hates the Policy
While Americans increasingly favor ending the Cuba embargo, standing behind it gives the 2016 presidential hopeful time in the spotlight.
by and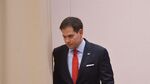 President Barack Obama's decision to normalize U.S. relations with Cuba after a half century has provided a lifeline for Senator Marco Rubio's presidential ambitions.
Struggling to break out of a pack of as-yet-unannounced 2016 Republican presidential hopefuls Rubio, the first-term, Cuban-American senator from Florida found himself suddenly in demand on this week's Sunday news shows, and made appearances on ABC's "This Week," CBS' "Face the Nation" and NBC's "Meet the Press."
Rubio, an ardent supporter of the Cuban embargo, is taking advantage of the debate not only to spotlight his views on Cuba but to position himself as well versed in foreign policy.
The Cuba issue isn't likely to be decisive when it comes to picking either party's nominee in 2016, and most of the Republican presidential hopefuls, with the notable exception of Kentucky Senator Rand Paul, also oppose Obama's stance. New Jersey Governor Chris Christie, who rarely weighs in on foreign policy, cited his "profound disagreement with this decision" in a letter to Obama dated Dec. 18 and that was highlighted on "Fox News Sunday." In his letter, Christie added that if Obama goes forward with his plan he should demand that Cuba turn over Joanne Chesimard, woman convicted of the killing of a New Jersey state trooper who escaped from prison in 1979 and is believed to be living in the communist nation.
With younger Americans, including Cuban-Americans, growing increasingly supportive of ending the embargo and normalizing relations, it isn't clear whether Rubio is on the winning side of this political debate. But for now, standing with critics of ending the embargo means a chance at standing in the spotlight and building name recognition.
"I know that this policy change that the president has now undertaken will not lead to freedom," Rubio said on ABC. "We have those policies of normalization toward Vietnam, for example, toward China. They're not any more politically free today than they were when that normalization happened. They may have a bigger economy, but their political freedoms, certainly I would not hold up China or Saudi Arabia or Vietnam as examples of political freedom, proving my point, that engagement by itself does not guarantee or even lead to political freedoms."
"If you're going to make concessions to Cuba, if you're going to recognize them diplomatically, if you're going to have more congress with them, there has to be some reciprocal opening on their part toward democracy; there was none," Rubio said on "Meet the Press."
The Cuba debate also has pitted Rubio and others in his party against one Republican 2016 hopeful, Senator Paul, who has said the embargo hasn't worked and is casting Rubio's stance as isolationist.
Rubio used his Sunday show platform to tie Paul to Obama. On ABC, he suggested Paul is becoming "the chief cheerleader of Obama's foreign policy" and said "I'm going to continue to oppose the Obama, Obama-Paul foreign policy on Cuba."
"He [Paul] has the right to become a supporter of President Obama's foreign policy," Rubio said on CBS. "If he wants to align himself and become a supporter of the Obama foreign policy, particularly in regard to Cuba, that's his right," Rubio said on NBC.
Rubio also reserved the right to run for president, even if it means competing against Bush, the senator's one-time political mentor and fellow Floridian. The former governor and brother and son of previous U.S. presidents will be "a very credible, strong candidate if he decides to run," Rubio told ABC. At the same time, Rubio said, "For me, the decision isn't based on anyone else, and that's not just exclusively Jeb, that's anyone else who would decide to run."
"I would imagine the presidential field is going to be quite crowded," Rubio said.
Before it's here, it's on the Bloomberg Terminal.
LEARN MORE