Just Say It: You're Running for President
It is painfully obvious what is going on here.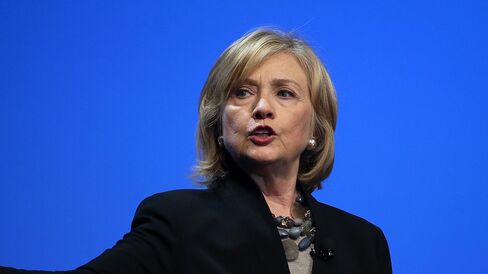 With every passing day it becomes more apparent: You, Candidate X, are running for president. Really, what other conclusion is there to draw? After all, you've spent the past few months acting exactly the way people do when they are simply counting down the days until the big announcement.
Don't play dumb. You know what I'm talking about.
You've released an inoffensive memoir, or will do so soon, so as to set out on a book tour with convenient stops dotting several early primary states.
You have hit the campaign trail in said states promoting other candidates and have made mental notes as to which lines get the biggest applause.
You have launched an exploratory committee, huddled with key advisers, and discussed this most personal matter with your family members.
You have done nothing to discourage the Ready-For-You organizers who have formed groups that are, at this very moment, raising money to forward your as-yet-to-be announced candidacy.
At this point in the game, you are either running for president, or you are guilty of willfully fostering a false impression to such a degree that you should forever be precluded from tossing your hat in the proverbial ring.
Of course, all of that said, there are logistical questions about when to formally declare oneself a candidate for the president of these United States, so you might be forgiven for asking the country to suspend disbelief a little while longer. But seriously, it would be nice if you just came out and said what most of us have long ago come to believe: You are running for president.
If, for some reason, you still have questions about how to flirt with your presidential bid, you might simply look around at the people you will likely go up against in your quest for your party's nomination. This year, they've been putting on a master class on how to evade making that elusive declaration. Here's a sampling:
Jeb Bush
On the one hand, the former Florida governor deserves props for being the politician who has come closest to simply stating outright that he is, in fact, running.
"I'm excited to announce I will actively explore the possibility of running for President of the United States," Bush tweeted last week.
On the other hand, let's get serious: once you post these kinds of messages to social media, you're signaling that you've already made up your mind. So, sure, thanks for the additional hint when you stepped down last week from your advisory position with Barclays Bank, but we really didn't need it to figure out that you're in.
Hillary Clinton
In a September speech delivered in Mexico City during which she, once again, suggested she had not yet made up her mind about whether she was running for president, Hillary Clinton let it be known that, hey, if she did decide to to so, she'd be a pretty good candidate.
"I do have a unique vantage point and set of experiences about what makes the United States operate well and what doesn't and what a president can do and should be doing," Clinton said. "So I am going to be making a decision around, probably after the first of the year, about whether I'm going to run again or not."
Don't think she's running? More than 60 members of Congress are banking on it.
Rick Perry
Perry wants it known that his disastrous 2012 campaign is a thing of the past. He now wears glasses and is focused on the important things.
"I'm comfortable I'm substantially more prepared to run for the presidency," he said. "I know the challenges. And so, again, I'm not ready to pull the trigger and say I'm in, but I'm comfortable that the process I've put in place here is a proper, timely and thoughtful process."
Yes, and now that he's leaving office, he'll have substantially more time to devote to the campaign trail. Running.
Rand Paul
You know Paul is running if for no other reason than the way he takes glee at dinging potential GOP rivals. He has called New Jersey Governor Chris Christie the "king of bacon," and has repeatedly knocked him for his bully demeanor. Hours after Jeb Bush's latest non-declaration, Paul purchased a Google search ad. Asked by Fox News' Megyn Kelly whether Bush had beat him to the punch, Paul replied, "Well, maybe he has more ground he needs to gain. He's been out of this for a while, so maybe he needs to get back in and practice up a bit. I don't know. I can't determine why other people—I just know what I'm going to do."
Paul has also shown a near obsession with the (wink-wink) presumed Democratic front-runner, not that we needed any more evidence of what should be an imminent announcement of his own candidacy.
Jim Webb
Despite the fact that Webb himself has, in his non-declaration, acknowledged the "nearly impossible odds" of defeating Clinton for the Democratic nomination, Webb seems as likely as a moth is to resisting flame to keep from entering the race.
"I have decided to launch an Exploratory Committee to examine whether I should run for president in 2016," Webb said in a website message that is Jeb-like in its flirtation.
https://www.youtube.com/watch?v=oV3RnBaXIlk
"I made this decision after reflecting on numerous political commentaries and listening to many knowledgeable people," Webb added. "I look forward to listening and talking with more people in the coming months as I decide whether or not to run."
With Elizabeth Warren showing little appetite for taking on Clinton in the primary, that role seems all but fated to Webb.
Ted Cruz
With no Michele Bachmann on stage at next year's GOP primary debates, the Tea Party vacancy has Cruz's name written all over it. What more proof does one need that Cruz has decided to run than his post-midterm linguistic evolution by which he now incorporates Clinton's name in nearly each and every Obama criticism?
In a recent speech to the Heritage Foundation, Cruz debuted the stump speech talking point.
"Today, the consequences of the Obama-Clinton foreign policy is that our friends no longer trust us and our enemies no longer fear us," Cruz said.
Like Paul, Cruz has also seen fit to take a swipe at Bush.
"If we nominate another candidate in the mold of a Bob Dole or a John McCain or a Mitt Romney—and let me be clear, all three of those men, they're good men, they're honorable men, they're decent men, they're men of character, they're war heroes — but what they did didn't work," Cruz told Politico. "It did not succeed. And if we nominate another candidate in that same mold, the same voters who stayed home in 2008 and 2012 will stay home in 2016, and Hillary Clinton is the next president."
Translation: Cruz is your candidate.
Chris Christie
"Listen, I'm thinking about it," the New Jersey governor said when asked point blank by Alexandra Bosrock, a sixth grader at Mendham Township Middle School, to say whether he was running for president.
"You can imagine that this is a really difficult decision to make, an important one. Mary Pat and I are talking about it, and trying to figure out what we want to do with the rest of our lives, because that's what the decision inside our house is really about. Because no matter what, I am still Andrew, Sarah, Patrick and Bridget's father."
Oh, please. Why else would you have vetoed that ban on pig gestation crates, if not to try and get a leg up in Iowa?
The Also About-to-Runs
As for all the other candidates who have been poking around Iowa, from Bobby Jindall to Bernie Sanders to Martin O'Malley to Rick Santorum to Mike Huckabee, maybe you're just less obvious about your desire to be a part of the presidential fun in 2016, or maybe reporters haven't given you the same opportunities to dissemble on your plans for the coming year because they don't see you as having much of a chance of actually winning.
Don't you see? You have an opportunity here, what with the presumed frontrunners stalling their way into the new year, you could grab headlines, be first at something, if you'd only come out and admit it: Yes, you're running for president.
(Corrects spelling of Michele Bachmann's name.)
Before it's here, it's on the Bloomberg Terminal.
LEARN MORE