Venezuela's Factories Grind to a Halt
Mass resignations and lack of material have left the nation's industrial zones in limbo.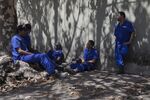 Factories outside Caracas closed for the holidays as early as October amid the near disappearance of supplies, skyrocketing inflation and a rising wave of violent looting.
Few reopened.
During a foray last week to the once-buzzing industrial hubs of Guarenas and Guatire, the main avenues — lined with pharmaceutical plants, cement-makers and auto-parts shops — were desolate. Early January's burst of job-seekers had petered out.
"We haven't stopped working here," said Angel Requena, a 45-year-old watchman at a soft-drink warehouse. "But from 20 delivery trucks making five daily trips to Caracas last year, now we have 14 making one trip a day," he said pointing to an empty garage.

The usual clamor of this industrial hub just 40 kilometers (25 miles) from the capital has been silenced by foreign-exchange controls, the collapse of the oil-based economy, price caps and an inflationary spiral that soared above 2,300 percent last year. As the nation's economy grinds to a halt, life is defined by crime, hunger and want.
Less supply has led to an unstoppable rise in prices that resists the efforts of officials to arrest it. On Thursday, the government met with Nestlé and Procter & Gamble officials to ask them to lower prices. And Vice President Tareck El Aissami this week announced shops would have to roll back prices to December levels.
"The full weight of the law will be applied against companies that fail to comply," El Aissami said.

On Friday, the food industry trade association Cavidea said in a public statement that the measure means "a forced paralyzation." A November survey from Conindustria, one of the country's largest business organizations, showed that 1-of-4 members were considering shutting down in 2018 due to the daunting conditions.
Already, in the industrial powerhouse of Carabobo state, 300 plastics companies haven't received raw material from a subsidiary of the state oil company PDVSA and are extending Christmas holidays until Feb. 15.
Venezuela's biggest heavy industry belt, southern Bolivar state, is also stilled. Alcasa, a state-owned aluminum factory, has only 29 of its 396 furnaces working, said Henry Arias, secretary general of the workers union there. 
"It's like a human being dying," he said. "Every furnace needs attention, and when it gets shut down, it dies."
State-owned Sidor, Venalum Bauxilum and Ferrominera, which process steel, bauxite and iron, have minimal operations after years of slow decay. Union representatives have said the plants are being mothballed. 
Heavy industries minister Juan Arias (no relation to the unionist) has claimed that the factories last year surpassed 2016 production, and that commercial sabotage from government adversaries has reduced production.

The limbo in the twin towns of Guarenas and Guatire in Miranda state is a microcosm of Venezuela's manufacturing. In 2016, the twin towns encompassed 8 square kilometers with facilities producing 20 percent of the country's drugs, 65 percent of disposable diapers, 90 percent of sandwich bread and 22 percent of the plastic, according to Fedeindustria, an industrial association. Factories there make car batteries, mattresses, frozen food, protective footwear and vehicle components, among other products. In 2015, 400 companies were registered there.
This week, only a scant few workers and pedestrians strolled by. Snack kiosks, usually full of customers, were empty. Across from one, three workers entered the main door of a food-processing company, paperwork in hand — not resumes, but resignations. The group would try its luck in Peru, the men said.
Jose Gregorio Palacios, 41, the company's security manager, said he was presiding over an exodus.
"It's not even 12 o'clock and I've already received four resignations," he said.
Since November, 25 of the company's 240 employees have left. Palacios pointed to images from security cameras recording the assembly lines. They weren't moving. Workers were captured chatting.
"The workers are here, but they're not doing anything," Palacios said. "There's no material to work with."
Obstacles lurk outside as well. Swarms of desperate Venezuelans have begun stopping trucks and taking control of merchandise, distributing goods right from the road as other vehicles pass by. According to the Venezuelan Observatory of Social Conflict, 107 looting incidents or attempts occurred nationwide in the year's first 10 days.
Victor Ciao, the 59-year-old floor manager of a plant that makes steel frames for industrial emplacements, said his company restarted operations this week, but lacked suppliers, raw materials and products.
"We now have to ask clients for materials, like steel, something we have never done before," he said. The speed at which prices rise is also a problem. "Our fees last only 24 hours."

As the possibility for profit — or even survival — recedes, so does the workforce.
Five men in blue overalls sat on the sidewalk outside a vehicle battery company, the only place in the area where the sounds of work could be heard.
"Our salary is not enough. People are leaving for Colombia or other countries," said Ovidio Palomo, 34. Venezuelans with the means to do so have rushed to cross the borders.
Porfirio Tamayo, president of the industrial chamber in Miranda state, said that migration of skilled workers is the direst threat of all.
"Without them, we can't operate," he said.
(Updates with comment from union leader in 10th paragraph.)