The World's Oldest Bank Is Stuck With Beautiful Tuscan Villas It Can't Sell
These are the properties behind the loans that has Monte Paschi creaking with billions of bad debt.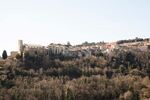 The abandoned farmhouse surrounded by acres of prime Tuscan vineyards, known as the Aquilaia estate, stands as a monument to failure—to the tens of billions of euros in bad loans that sank the world's oldest bank.
Born at about the same time as Michelangelo, Banca Monte dei Paschi di Siena crumbled under the weight of a lending binge whose legacy has become the headache of Italian taxpayers after the government said in December it would take it over.
While the bank says it has already accounted for much of the potential losses, skeptics say the signs aren't promising.
"It's very likely that Monte Paschi will need more help to fix its issues," said Pierluigi Piccini, 64, a former mayor of Siena and a former manager at the bank in Paris, while sipping coffee near Piazza del Campo, the iconic square where the horse race known as Palio is held twice a year. "The worst is yet to come."
A spokeswoman for Monte Paschi declined to comment on the loans and the value of the underlying assets.
Even in a country whose banks hold almost €360 billion ($388 billion) of nonperforming loans—about €6,000 per person—Monte Paschi stands out. Almost 35 percent of all its loans were deemed to be stressed in June, according to data compiled by PricewaterhouseCoopers. 
After the bank's 1999 initial public offering, Monte Paschi's net loans almost tripled to a peak of €155 billion in 2010.
With that—and notwithstanding state aid in 2009 and 2013—its gross nonperforming assets increased sevenfold in the past decade, to €47 billion at the end of 2015.

A chunk of that is tied up in the picturesque hills that have drawn tourists, winemakers, and olive growers for centuries. What it hasn't drawn more recently is investors.
Monte Paschi pumped about €3 million into the Aquilaia estate, borrowed to turn it into a 1-million-bottle-a-year company that included the Morellino di Scansano red wine, according to private and public documents. Now the bank is stuck with an unpaid loan and no buyers for a property on the market for less than half the value of the debt.

A local court in Grosseto failed in at least two attempts to draw bidders for the estate, even after lowering the minimum acceptable price to €1.3 million, according to court documents. The property will be offered again for even less, though not until 2018 because of a backlog of foreclosures, according to a court employee, who asked not to be identified because the matter is private.
"After the local real estate crisis, it's hard to sell properties in auction," said Lorenzo Mascagni, a lawyer in Grosseto.
Nearby in Scansano is another failure, Aia della Macina. The half-built tourist complex overlooking a farm and vineyards was backed by a €1.6 million loan from Monte Paschi in 2002. The bank foreclosed in 2006, and the property was later put on the market for €2 million. Even after six auctions, no buyer emerged.

The court will try again this year and lower the minimum acceptable price to €733,000, according to documents on Astalegale.net, a website for advertising legal auctions.
"Court auction prices are still unrealistically high," said Luca Desideri, 46, a real estate agent in Grosseto. "There's no price for these properties simply because there are no buyers."
It's a far cry from the boom years. Before the financial crisis hit almost a decade ago, Monte Paschi would offer financing to farms for as much as four years of future wine sales, according to Desideri.
"Credit was easy to get back then," said Alessandro Sabatini, 36, who has been running a wine shop in the town of Scansano for more than 15 years. "Many wine projects sprang up without a real business plan behind them."

Distressed-debt investors have been circling Italian banks for years to get their hands on nonperforming-loan portfolios. Funds managed by Fortress and Pimco are now working with UniCredit, Italy's largest lender, to acquire a stake in companies managing about €18 billion of bad loans.
Monte Paschi, however, is weaker and hasn't been able to take losses the way its Italian competitors have without breaching European Central Bank regulatory levels. The Siena-based bank had to keep the bulk of its soured debt on its balance sheet. Selling it cheaply to lure investors would have forced the lender to squeeze its capital to below ECB requirements.
"You can't sell these properties unless the price is at least less than half of the precrisis value," said Amelia Colvin, a distressed-debt specialist working in London and Milan for Cadogan Securities. "Only when they try to sell the assets, banks realize they are worth much less than they expected."
The bank says it's committed to selling €27.7 billion of bad loans.
The disposal was meant to follow a €5 billion share sale. When the rights issue failed, the government said it would step in and help plug a capital shortfall that the European Central Bank says is €8.8 billion.
"More stressed loans could turn sour after the cleanup," said Massimo Famularo, a Milan-based adviser on bad-loan deals at Frontis NPL.
A year after the Italian government transferred soured debt of lenders Banca Etruria, Banca Marche, and CariChieti to a bad bank, they had at least €2.2 billion of new nonperforming loans on their balance sheets.
Around Siena, Monte Paschi is known as Babbo Monte, echoing the Tuscan term for daddy, because of its historic support to nearby communities and via the foundation that's controlled by local politicians and tht held the largest stake in the bank until 2014, said Roberto Porciatti, 39, who runs a deli in the city center. "Before the crisis you just needed to ask for money, and Babbo Monte would provide it," said Francesco Zampetti, 74, a retired dental technician and lifelong Siena resident, as he tucked into his salami-based breakfast at Porciatti's.
But after going public, Monte Paschi's horizons widened.
The bank is on the hook for Rome-based construction business, ImpreMe, owned by the Mezzaroma family, which is struggling to sell its residential properties on the outskirts of the capital. Monte Paschi increased its exposure to the company at the same time that the former chairman, Massimo Mezzaroma, took over Siena's soccer team, then in Italy's top division, according to people familiar with the matter, who asked not to be identified because the information is private. The team, which was also sponsored by the bank, failed in 2014.
Monte Paschi accounts for more than €200 million of ImpreMe's total indebtedness of about €300 million, the person said.
"ImpreMe is still a solvent company, and it's working with Monte Paschi to restructure the debt," said Benedetto Marcucci, a spokesman for the company in Rome.
Even luxury properties have struggled to find buyers.

A short drive north of Scansano lies the medieval castle of Montepo and its 1,000-acre estate of vineyards and olive trees. The owner, Jacopo Biondi Santi, heir of an aristocratic family that created the Brunello di Montalcino red wine in the 19th century, borrowed almost €18 million from Monte Paschi, according to people familiar with the matter. The bank foreclosed in 2011, and in November the property was put at auction for €13 million by the Grosseto court.
The estate received no bids. But the property will be withdrawn from auction because Biondi Santi has pledged to pay off the outstanding debt after his family sold a stake in a larger wine estate near Siena in December, according to Giovanni Gatteschi, his lawyer, who's based in Arezzo.
"Biondi Santi will pay back all his debt by the end of the month," he said. Among Monte Paschi's borrowers, "he's is one of the few who will settle his debt in full."
—With assistance from Sergio Di Pasquale, Sonia Sirletti, and Giovanni Salzano.