Paschi Seeks State Aid as Italy Sets $21 Billion for Banks
By , , and
Monte Paschi recapitalization effort misses bank's target

New state fund seen plugging any Paschi recap shortfall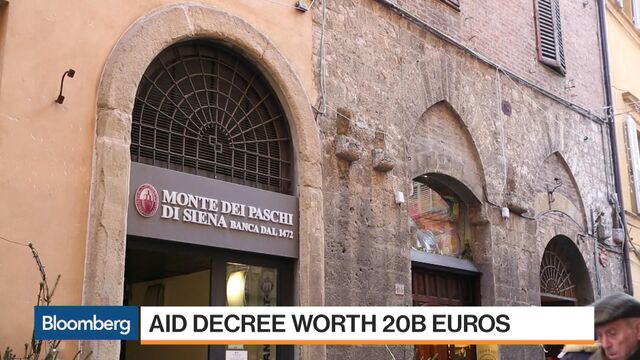 Italy's government is set to rescue Banca Monte dei Paschi di Siena SpA after the world's oldest lender failed to raise 5 billion euros ($5.2 billion) from the market, in what will be the country's biggest bank nationalization since the 1930s.
Italy will plow as much as 20 billion euros into the country's banks providing both emergency liquidity guarantees and capital injections, as more lenders may seek lifelines soon. Monte Paschi said in a statement it will ask the government for a "precautionary" capital increase. 
"Overall it's good news; finally we are heading toward a solution," Jacopo Ceccatelli, head of Marzotto SIM SpA, a Milan-based broker-dealer, said in a Bloomberg Television interview. "Italy is doing now what other countries have done many years ago to sustain their banking system."
Italy's banks are struggling under the weight of a 360 billion-euro mountain of bad loans, a plight that has eroded profitability and undermined investor confidence. The nationalization of Monte Paschi could be followed by rescues for lenders including Veneto Banca SpA and Banca Popolare di Vicenza as part of the government package.
Read More: Why $21 Billion May Not Be Enough for Italy's Banks
"We will see if other banks ask for aid," Italian Finance Minister Pier Carlo Padoan told reporters after a cabinet meeting in Rome. Banks will be able to request precautionary recapitalizations that would see some bondholders taking a hit, the government said.
Suspended Trading
Italian Prime Minister Paolo Gentiloni said European Union officials agreed with Italy's plan to provide support to the country's banking system. EU regulators are working with the Italian authorities to confirm whether conditions have been met for Monte Paschi to obtain a precautionary recapitalization, a spokesman for the commission said in an e-mailed statement.
Holders of Monte Paschi's Tier 1 securities will get stock that represents 75 percent of the nominal value of the bonds, while Tier 2 bonds, mainly owned by retail investors, will be converted at 100 percent of nominal value, the government said. The Treasury will offer savers to exchange shares obtained in the forced swap with senior bonds of the bank as compensation at the end of the process.
"In case of mis-selling, the banks can ensure that there are no adverse effects on retail sub-debt investors, which would get a safer instrument in return," the commission said.
It will be crucial "to understand where is going to be drawn the line between retail and professional investors and how this investors are going to be reimbursed," Ceccatelli said.
Read More: Paschi Drops Private Fundraising, Paving Way for State Aid
Shares and bonds of the lender will be suspended on Friday, the Italian stock exchange said in a statement. The stock has plunged 87 percent this year, closing at 15.08 euros in Milan on Thursday, the lowest since it began trading in 1999. That left the company with a market value of about 442 million euros.
'Lost Time'
Monte Paschi said on Dec. 21 that it may run out of liquidity after four months, sooner than the 11 months forecast just a week earlier. Late Thursday, it abandoned plans to raise 5 billion euros from the market after it failed to garner interest from an anchor investor. The bank said it was scrapping the entire capital program, including a sale of bad loans and a debt-for-equity swap.
"A nationalization should have been done five years ago," said Francesco Confuorti, chief executive officer of Advantage Financial SA, a Milan-based investment firm. "The bank lost time, money and credibility seeking to keep the patient on life support when he was in an irreversible coma."
Analysts expect the government will pump more capital into Monte Paschi than its private plan was seeking. Equita SIM SpA analysts estimate a 6.6 billion-euro recapitalization, with 2.5 billion euros coming from the mandatory conversion of subordinated bonds.
Monte Paschi CEO Marco Morelli had crisscrossed the globe looking for investors to back the bank's reorganization plan, which included a share sale, the debt-for-equity swap and the sale of 28 billion euros of soured loans. 
Investors Hesitated
Qatar's sovereign-wealth fund, which had considered an investment, held off on committing to buy shares, people with knowledge of the matter have said. Other institutions that were considering acquiring stock had indicated that they would put funds in the troubled bank only if it were able to raise 1 billion euros from cornerstone investors, according to the people.
"The recapitalization plan was too complex and unappealing, and the timing too short," said Renaud Champion, head of credit strategies at La Française Investment Solutions.
Monte Paschi was deemed Europe's weakest major bank in July stress tests and told by the European Central Bank to clean up its balance sheet. The firm was supposed to raise 5 billion euros of fresh funds by the end of the year to boost its capital and cover losses from disposing of the bad loans.
Undermined by derivatives deals that hid losses, Monte Paschi has received 4 billion euros in taxpayer-funded bailouts, most of which it has repaid, and 8 billion euros from investors since 2009.
"We would see the events surrounding Monte Paschi as a possible relief for the sector," Riccardo Rovere an analyst at Mediobanca SpA wrote in a note Friday. "Precautionary recapitalization terminates the uncertainty surrounding the capital strengthening of Paschi and they should work as a relief for the concern surrounding its liquidity position."
— With assistance by Sergio Di Pasquale, Vogeli Voegeli, John Follain, Alessandra Migliaccio, Francesca Cinelli, Dan Liefgreen, Aoife White, and Maria Ermakova
Before it's here, it's on the Bloomberg Terminal.
LEARN MORE