technology
Baidu Forecast Beats Estimates After News, Video Draw Subscribers
Bloomberg News
First quarter revenue also surpassed analysts' projections

Its shares jump in extended trading in New York after results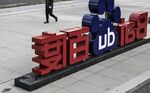 Baidu Inc. forecast second-quarter sales above analysts' estimates as advertisers flock to its news aggregation service and its Netflix-style video service attracted more subscribers.
China's most popular search engine predicted revenue of 24.91 billion yuan to 26.19 billion yuan ($3.97 billion to $4.17 billion) in the three months ending in June, beating the 24.3 billion yuan average of estimates. That forecast followed better-than-projected first-quarter sales as the company sustains a bounce-back from a dismal 2017. Baidu's American depository receipts jumped 5.6 percent in extended trading in New York.
The forecast is a confidence-booster for Baidu as it enters a critical year after selling or spinning off margin-eroding businesses such as food delivery. The moves are designed to streamline the company and reduce losses so it can focus on artificial intelligence products from driverless cars to digital assistants.
One of those spinoffs, the newly listed streaming service iQiyi Inc., also reported results for the first time and gave a sales outlook that surpassed projections. Chief Executive Officer Yu Gong said its goal is for a third of its movies and shows to come from in-house production within five years, generating up to a quarter of traffic: a move it says will slash costs by averting a bidding war against rivals like Tencent Video.
"It looks fairly solid, and on the margin the numbers were better. But it doesn't change our evolved view that they have weaknesses in core business," said Kirk Boodry, an analyst at New Street Research. "The overall growth in content costs was slower than full year guidance would suggest, so that's going to step up."
Delivering growth is vital to reassuring shareholders in the intervening years before its AI products yield substantial profits. Baidu posted first quarter sales of 20.9 billion yuan compared with the 20.2 billion yuan that analysts had predicted. Net income was 6.7 billion yuan, also beating expectations.
Baidu Chief Operating Officer Qi Lu gave analysts on an earnings call a summary of its Apollo driverless car program's rollout and business model. Mini-buses holding six passengers and plying pre-determined routes with "L4" technology -- allowing full autonomous driving -- will be released this year. But sedans with "L3" technology that still require humans at the wheel won't be released until at least 2019.
"For Apollo, we're very clear upfront about our business model. We make the platform open and free for partners to use but they would need to use a key set of services and one of those is high-definition maps," he said.
— With assistance by David Ramli
(
Updates with iQiyi comments in the fourth paragraph.
)
Before it's here, it's on the Bloomberg Terminal.
LEARN MORE