Finance
He Can Fix Your Student Debt, but Can He Sell You a Mortgage?
Anthony Noto steadied Twitter. Now, as CEO of student-loan refinancer SoFi, he has to upsell the company's high-earning clientele and fend off Goldman Sachs.
By and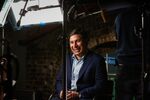 As chief operating officer of Twitter Inc., Anthony Noto did a lot to calm the company's perpetually anxious shareholders. He started as the head of finance but became second in command after management shakeups. On Feb. 26, however, Noto took over as chief executive officer of a financial technology startup, Social Finance Inc., or SoFi. Once again, he's stepping into a leadership gap at a company with big ambitions—and some big headaches.
With an online-only business model, SoFi has become the largest student-loan-refinancing business in the U.S. And it's aiming for more: to beat traditional banks by targeting millennials with products ranging from insurance and mortgages to wealth management and checking accounts. But in early September, CEO Mike Cagney left SoFi after allegations that some managers sexually harassed employees. Amid the turmoil, the company withdrew its application for an industrial loan charter, which would allow it to collect FDIC-insured deposits.
Noto hasn't signaled any big changes in direction. "We're going to focus now on continuing to execute on the strategic plan and build out our muscle and strength that would give us the option to be a public company at some point," he told Bloomberg News on his first day on the job.
He'll be facing increasingly tough competition. SoFi sees Marcus, the consumer-lending business started by Goldman Sachs Group Inc. in 2016, as the biggest threat, according to people familiar with SoFi's thinking. The Wall Street behemoth focuses on clients planning to refinance credit card debt, and CEO Lloyd Blankfein has pointed to advantages it has over a lot of fintech startups: As a bank, it can use deposits as an inexpensive source of funding.
One question Noto will have to navigate is how much SoFi should use its own balance sheet—that is, hold on to the loans it originates as opposed to selling them to other investors. It currently keeps a slice of loans but sells off most of them. Holding loans allows a company to earn a stream of interest income, but investors generally put a lower value on financial firms than tech platforms. SoFi eventually has to decide "who are we, what can we sustain?" says Henry Coffey, an analyst at Wedbush Securities. "They want a high market valuation, but they have to deal with the realities of being a finance company." SoFi spokesman Jim Prosser says the company is confident it can grow with its current model.
The startup tries to build a loyal following among young "HENRYs" (high earners not rich yet) and then get them to buy other products and refer their friends. Expanding fee-based products such as wealth management would give the company a buffer if rising interest rates hurt demand for loans. Because SoFi doesn't have retail branches, it connects with customers by holding events such as career advice nights and celebrations for those who've paid off student loans.
Some get extravagant treatment. At a dinner in New York City, "there was a place mat, and when you turned it over, you see a letter that the special person you took with you wrote for you about your journey to paying off the loans," says Imran Vithani, 29. "I sobbed like a baby." SoFi says it plans to hold 500 events in 2018, up from 41 in 2015. "We found that the return on investment is really quite good," Joanne Bradford, the company's chief marketing officer, says of the gatherings. People who go "refer at a higher rate, take more products from us, and are great at giving us feedback."
The wealth management unit, fully launched in May 2017, had $42.3 million in assets under management as of Jan. 18, according to Prosser. SoFi is arguably late to this particular game: Betterment LLC and Wealthfront Inc., digital wealth management startups, each has more than $10 billion under management. But that may also suggest there's room for the business to grow.
Using a partner bank, SoFi is also starting a service that provides checking and debit accounts. "There's an opportunity to build relationships with our members," Noto said in February. "We think we can deliver products in a more personalized way with better selection, better information, and better value." If SoFi can show investors it's still a threat to traditional banks, the IPO that was first expected in 2015 is still in the cards.
(
Corrects the name of Imran Vithani in the seventh paragraph
)
BOTTOM LINE -
SoFi has done well by marketing loans to young professionals, but to keep growing, it wants to sell them other products.
Before it's here, it's on the Bloomberg Terminal.
LEARN MORE