technology
Facebook CEO Mark Zuckerberg Will Speak About Data Crisis in Next 24 Hours
By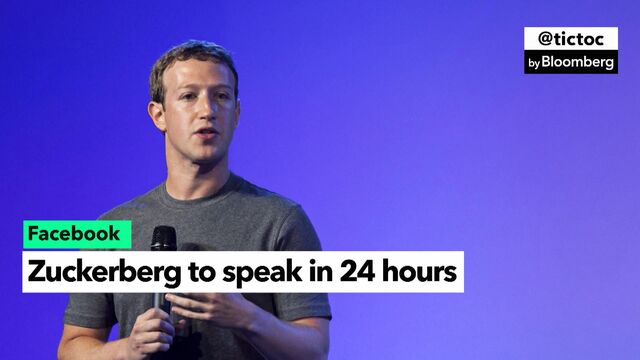 Facebook Inc. Chief Executive Officer Mark Zuckerberg plans to speak up shortly to address a barrage of criticism for the social-media company's handling of the private data of millions of users.
Zuckerberg will speak publicly within 24 hours, according to a person familiar with the CEO's plans. He is facing a rising swell of demands from politicians in the U.S. and Europe to explain how Facebook let the personal data of 50 million people fall into the hands of Cambridge Analytica, a political-advertising firm that helped Donald Trump win the U.S. presidency in 2016, without their consent.
Zuckerberg's silence so far on the escalating crisis has only fanned the flames, sending the shares tumbling in recent days. The CEO's remarks will be aimed at helping to rebuild the public trust, according to the person familiar with the plans. Axios earlier reported on the timing of the speech.
The stock reversed an earlier decline on the news, rising 0.2 percent to $168.46 at 11:05 a.m. in New York.
Before it's here, it's on the Bloomberg Terminal.
LEARN MORE