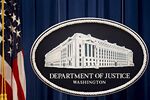 Time Warner Inc.'s executives and board were so sure their planned merger with AT&T Inc. would sail through that they asked for very little money in the event it didn't. Now they may be wishing they could rewind the clock 17 months. 
The companies head to court on Monday to begin the process of defending their $109 billion transaction. If successful, it will give AT&T  -- the No. 2 U.S. wireless carrier -- control of popular TV networks such as HBO and TBS, as well as the Warner Bros. film studio. The Justice Department opposes the deal on the grounds that it will hurt competition and that, in turn, will lead to higher costs for consumers. It's a legitimate concern, especially considering that this merger has already inspired other leaders in the media and communications industries to explore their own tie-ups. Its passage could make subsequent deals difficult to block (including vertical megadeals in other industries such as health care), and so begins a cycle of consolidation that puts more power in fewer hands.
But the companies clearly didn't anticipate the push-back. If AT&T loses in court, it will have to pay a $500 million breakup fee to Time Warner. That is an extremely low figure, relatively speaking. It amounts to only about 0.6 percent of the deal's equity value and less than 0.5 percent of the total value, versus the more commonly seen 3 percent to 5 percent fees. Consider Bayer AG's $66 billion offer to buy Monsanto Co., the biggest deal after AT&T-Time Warner to be announced in 2016. The German chemicals company, which is facing its own antitrust hurdles, may have to pay Monsanto $2 billion, or 3 percent of the deal value, should its efforts fail. 
Time Warner's advisers seriously erred in agreeing to such a low breakup fee. They did so about a month before what turned out to be one of the most consequential U.S. presidential elections in recent memory, and for a transaction that has now stretched on for more than a year and left some 26,000 employees unsure about the future of their company. Not to mention, President Donald Trump happens to have a particular sore spot for CNN, a Time Warner asset. 
Lucky for Time Warner shareholders, the deal stands a good shot in court and the stakes are higher for AT&T, anyway. As I've noted before, Time Warner may not have much downside should the deal fall apart -- so long as its ratings don't get worse. Fourth-quarter earnings beat estimates, helped by HBO's stronger subscription revenue and Turner's higher fees from pay-TV operators that offset the cord-cutting effect. There would also likely be other bidders for the company. 
AT&T, on the other hand, is building its wireless entertainment strategy around Time Warner, a crucial selling point to investors frustrated by the deterioration in AT&T's recently acquired DirecTV satellite business. DirecTV does have the fast-growing DirecTV Now streaming app, but the economics are far less attractive for such over-the-top skinny bundles than traditional pay-TV. 
Monday kicks off what is sure to be a weeks-long saga, and there are basically two schools of thought on the outcome: 1) that the deal should be blocked, and 2) that the Justice Department has no grounds to block it. While these may sound perfectly contradictory, they're both potentially right. Megamergers like this aren't done to benefit consumers -- it's largely about having a greater hold over customers and gaining more pricing power. Otherwise, what would be the point of spending $85.4 billion (equity value), diluting your shareholder base and taking on all that debt?
But what this case comes down to is whether the government's attorneys can prove that AT&T owning Time Warner will be bad for consumers. That's not so easy given how we've traditionally defined competitive landscapes -- and AT&T and Time Warner aren't competitors. As the Bloomberg View editorial board put it in November:
Times have changed and the mechanism by which the government judges and controls antitrust may be in need of updating, too.
This case could either open the floodgates or cause us to entirely rethink these kinds of vertical megamergers. AT&T will pay a tiny fee if the deal gets blocked, but it'll bear a bigger cost. All rise ... 
The case is U.S. v. AT&T Inc., 17-cv-2511, U.S. District Court, District of Columbia (Washington). 
Before it's here, it's on the Bloomberg Terminal.
LEARN MORE