Looking Skyward
Don't Underestimate Disney
Comcast is making things difficult, but the media giant and its CEO Bob Iger have the tools to fend off an M&A interloper.
By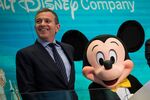 Now we get to see just how important Europe is to Walt Disney Co. 
We know by now that things rarely go according to plan when it comes to megamergers in the media and communications sector, given the ensemble of shrewd billionaires and egos involved, all feeling threatened by the tech giants creeping on their turf and wanting as much of the market as possible. It's no wonder, then, that Comcast Corp. has come along to throw a wrench in Disney and 21st Century Fox Inc.'s already complex merger plans. The cast of characters this time is Comcast CEO Brian Roberts, Disney CEO Bob Iger and Rupert Murdoch of Fox. 
Comcast on Tuesday morning made an all-cash proposal to buy Sky Plc, the U.K.'s biggest pay-TV provider and a key asset in the Disney-Fox deal. See, Fox owns about 39 percent of Sky and has been trying to buy the rest, but the scandal-laden Murdoch empire has had trouble swaying regulators to give it that much control. Meanwhile, Fox agreed in December to sell most of its assets to Disney for $52 billion plus debt, a price that includes its interest in Sky. Disney's hoping the Fox-Sky deal will close, at which point Disney would assume the ownership and resulting debt. 
There are a few ways this could play out now, but the most likely to me is that Disney either allows Fox to raise its bid for Sky or makes its own offer. I'm using "allows" loosely here -- of course, Disney and Fox are still separate entities. But any change to the bid for Sky would require tweaked terms for the Disney-Fox deal, a nuisance Comcast is using to its advantage.

Should it come down to a battle directly between Disney and Comcast, Disney would win. It has the stronger balance sheet and, importantly, shareholders who have never been given reason to doubt Iger's M&A decisions. I explained before how Disney was able to use its goodwill with its investor base and preserve its balance sheet to launch a bid for Fox. Shares of Comcast, on the other hand, sold off more than 5 percent Tuesday. As Craig Moffett, an analyst at MoffettNathanson LLC, put it:
Comcast will have to twist themselves into knots to explain why satellite distribution won't be just as obsolete in Europe as it already is in the U.S.
The biggest question isn't whether Disney can outbid Comcast, but whether it wants to go through such hassle. In a Dec. 14 interview on Bloomberg TV, Iger called Sky "a real crown jewel" within Fox's assets. Gadfly's Alex Webb explained Tuesday why Comcast also has that view. For Murdoch's part, he needs to hedge the risk that the Disney-Fox deal falters, and one way to do that is by Fox retaining its valuable Sky stake.
While Comcast is willing to share ownership of Sky with the Murdochs, I'd be surprised if Iger were comfortable with Disney being left as a minority shareholder to Comcast. It foreshadows the predicament that could arise with Hulu, in which the tables are turned -- Disney may have majority ownership by way of Fox, and Comcast would be left as a minority stakeholder.
This friction between media moguls -- all wanting to do deals but not wanting to cede control -- reminds me of the scene in "Finding Nemo" (from Disney's Pixar) where the hungry seagulls are all annoyingly cawing "mine, mine, mine." Nigel the pelican then tells them to "shut up," which is pretty much what the government could still do, leaving another layer of uncertainty in this Disney-Fox-Sky-Comcast matter. 
All we can go off of is what we know about the players: Roberts may be just as satisfied forcing his rivals at Disney to pay up. But Iger has always been an astute dealmaker, deliberate in his moves and committed to following through -- and now, more than ever, he has to be. This is Disney's deal to lose. 
--Elaine He contributed the "Fox in the Mouse House" graphic
To contact the editor responsible for this story:
Beth Williams at bewilliams@bloomberg.net
Before it's here, it's on the Bloomberg Terminal.
LEARN MORE