You First
Blame Stubborn Billionaires for the Media-Deal Stalemate
Charter, CBS, Dish -- they've all got big shareholders calling the shots and they drive a hard bargain.
By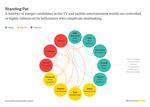 CHARTER COMMUNICATIONS INC-A
+1.99
At Closing, February 16th
CBS CORP-CLASS B NON VOTING
-1.35
At Closing, February 16th
With so many billionaires pulling the strings in the media, pay-TV and wireless industries -- from John Malone and Charlie Ergen to Shari Redstone and Masayoshi Son -- it's no wonder the deals we were promised this year aren't getting done.
In the 11 months since AT&T Inc. announced its $109 billion takeover of Time Warner Inc., there have been plenty of rumors about the next merger mashups and who is talking to whom -- Verizon-Disney, Altice-Charter, Comcast-Sprint, etc. -- and still very little has happened. Everyone seems to want acquisitions like AT&T's to expand their power, but behind most of the remaining merger candidates are big shareholders that either prefer to retain control or are demanding too much money to give it up. This infographic demonstrates the conundrum:

Look familiar? It's just like our Merger Wheel from last December, when I gave it a spin and predicted that 2017 would be the year of media and wireless megamergers. So much for that, it's still spinning. 
Tom Rutledge, CEO of Charter Communications Inc. -- which happens to be a Malone company -- gave investors a glimpse into why we haven't landed on any deals yet while speaking at last week's Goldman Sachs Communacopia conference: 
If you look out there, what's available to us, it's all controlled one way or another. And so it's going to happen when the controllers want it to happen, whether that's a family or a significant shareholder.
If I had to guess, Rutledge could have been hinting at CBS, the $23 billion TV production company that's controlled by the ailing 94-year-old Sumner Redstone and his daughter Shari Redstone, who has stepped into his shoes. CBS makes an attractive merger candidate for a number of companies such as Charter, but it's unlikely to be receptive to offers no matter the price. 
Verizon Communications Inc. CEO Lowell McAdam has also signaled interest in CBS. It was back in April when he floated the idea along with other merger possibilities for Verizon, which also included Comcast Corp. and Walt Disney Co. While neither Comcast nor Disney are controlled companies, both their CEOs carry a great deal of influence -- Comcast's Brian Roberts is son of the founder, while Bob Iger has been the beloved king of the Magic Kingdom for 12 years. And wouldn't you know it, McAdam entirely backpedaled on his speculative remarks during last week's conference, saying he's "not looking for anything major" now as far as M&A. Perhaps he had been but got rejected.
One controlling shareholder did give in this summer: After years of on-and-off discussions and speculation, the Scripps family finally agreed in July to sell Scripps Networks Interactive Inc. -- owner of HGTV and Food Network -- to Malone's Discovery Communications Inc. for $14.6 billion including debt, exploiting an opportunity to exit at a record price for investors. 
Is Scripps a one-off situation, or a sign that the dominoes are beginning to fall? It's hard to know, but there is one company unlikely to stay independent much longer and that's AMC Networks Inc., creator of "The Walking Dead." While any deal would require approval from the Dolan family, they're viewed generally as willing sellers if the price is right -- and Viacom, which lost out on the bidding for Scripps, is one logical home for it. However, the Redstones may not wish to push Viacom's leverage any higher for the time being as it tries to turn around MTV and its Paramount film business.
The irony is that there is one billionaire -- Japan's Son -- trying to flag down any buyers he can for Sprint, without luck so far. Aside from his desperation to offload the headache to someone else, calls for a nearing market correction may mean other industry bigwigs continue to dig in their heels. But the deal prognosticator in me says at least one mega transaction is in store. Where will the Merger Wheel stop? 
--Media Wheel Graphic created by Cynthia Hoffman.
To contact the editor responsible for this story:
Beth Williams at bewilliams@bloomberg.net
Before it's here, it's on the Bloomberg Terminal.
LEARN MORE